Daniel Oren Hastings (Daniel O. Hastings)
Education
Career
Hastings was admitted to the Delaware bar in 1902.

He served as Deputy Attorney General of Delaware from 1904 until 1909, Secretary of State of Delaware from January 1909 to June 1909. He resigned to accept an appointment as Associate Justice of the Delaware Supreme Court, and served there until 1911. He was Special Counsel for the Delaware General Assembly in 1911, City Solicitor of Wilmington from 1911 until 1917, and Judge of the Municipal Court of Wilmington from 1920 until 1929.

Hastings was appointed to the US Senate upon the resignation of Senator T. Coleman du Pont, December 10, 1928 and served the remainder of his term. He was elected in his own right to a full term as US Senator in 1930, defeating Democrat Thomas F. Bayard, Jr., a former US Senator. Hastings lost his bid for a second full term in 1936 to Democrat James H. Hughes, a lawyer from Dover, Delaware. He then returned to the practice of law in Wilmington.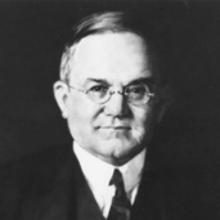 Contributor  
Family description
Membership description
Relatives
Views and World outlook
Party affiliation description
Go
up
Edit Profile