Alfred Merrill Worden
Alfred Merrill Worden, American former astronaut, research company executive. Inducted into Michigan Aviation Hall of Fame, 1990. Board directors Boys' Clubs American, Palm Beach County, Salvation Army. Member American Institute of Aeronautics and Astronautics, Society Experimental Pilots, American Astronomical Society, Explorers Club, Circumnavigators Club.
Background
Education
Career
Commissioned 2nd lieutenant United States Air Force, 1955, advanced through grades to lieutenant colonel, 1971. Stationed at Andrews Air Force Base, Maryland, 1956-1961, University Michigan, 1961-1963, Farnborough, England. With Royal Air Force, 1963-1965.

Instructor Aerospace Research Pilots School, Edwards Air Force Base, California, 1965-1966. Astronaut Manned Spacecraft Center, National Aeronautics and Space Administration, Houston, 1966-1972. Command module pilot Apollo XV, 1971.

Senior aerospace engineer, test pilot, director systems studies division Ames Research Center, Moffett Field, California, 1972-1975, retired, 1975. Vice president High Flight Foundation, Colorado Springs, Colorado, since 1975. President MW Aerospace, Inc., since 1985, Jet Electronics and Technology, Inc., 1990-1993.

Staff vice president BF Goodrich Aerospace, Brecksville, Ohio, since 1993.
Works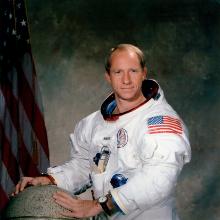 1955

1963

1972

1955

1956 - 1961

1961 - 1963

1963 - 1965

1965 - 1966

1966 - 1972

1971

1971

1972 - 1975

1975

1985

1993