Donald Raymond Keith
Donald Raymond Keith, business executive, retired army officer. Decorated Distinguished Service Medal with two oak leaf clusters, Legion of Merit with two oak leaf clusters, Bronze Star, Meritorious Service medal, Army Commendation medal with oak leaf cluster, Vietnamese Distinguished Service Order.
Background
Education
Career
Commissioned Second lieutenant United States Army, 1949, advanced through grades to general, 1981. Assistant professor chemistry United States Military Academy, 1958-1961. Assistant secretary general staff Department Army, Washington, 1964-1966.

Commanding officer 5th Battalion, 73d Artillery, 1967-1968, 36th Field Artillery Group, 1969-1970. Executive to chief research and development Department Army, Washington, 1970-1971. Director research and analysis Civil Operations and Revolutionary Development Support, Military Assistance Command, Vietnam, 1971-1973.

Director developers Office Chief Research and Development, Department Army, Washington, 1973-1974. Director Weapons Systems Office Deputy Chief Staff for Research and Development and Acquisition Department Army, 1974-1976. Commanding general United States Army Field Artillery Center, Fort Sill, Oklahoma, 1976-1977.

Deputy chief staff research, development and acquisition Department Army, 1977-1981. Commander United States Army Materiel Development and Readiness Command, 1981-1984. Retired, 1984; president Cypress International, Alexandria, Virginia, from 1984.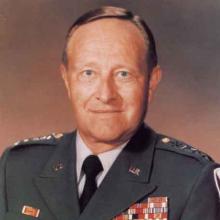 1949

1957

1949

1958 - 1961

1964 - 1966

1967 - 1968

1969 - 1970

1970 - 1971

1971 - 1973

1973 - 1974

1974 - 1976

1976 - 1977

1977 - 1981

1981

1981 - 1984

1984