Background
Education
Career
Professor history Smith College, Northampton, Massachusetts, 1966-1981. Editorial staff The Washington Post, 1981. Executive editor, The Washington Quarterly Georgetown Center for Strategic and International Studies, Washington, 1981—1983.

Professor Georgetown University, 1981—1984. President Center for the Study of Democratic Institutions, Santa Barbara, 1984. Editor The Center Magazine, 1984.

Professor history Boston University, 1985-1989. Founder, president The Center for Democracy, Washington, 1985—2003. Senior advisory for democratic institutions & director International Foundation for Elections Systems, since 2003.

Archivist of the United States The National Archives & Records Administrator, 2005—2008.
Major achievements
Membership
Executive director The Democracy Program, Washington, 1982-1983. Acting president National Endowment for Democracy, Washington, 1983-1984. Chairman education committee United States Institute Peace, Washington, 1986-2001.
Member United States Observer delegate, February, 1986 Philippines election, co-author report. Vice chairman United States delegate United Nations Educational World Conference on Culture, 1982, United Nations Educational, Scientific and Cultural Organization/IPDC meeting, 1983. Chairman International IMPAC/Dublin Literature award, 1996-2003.
Fellow Woodrow Wilson Center, National Endowment of the Humanities. Member Society of America Historians, Cosmos Club.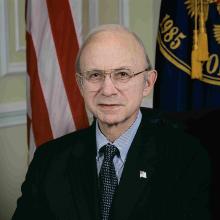 Born September 1, 1937
Nationality
1967

1966 - 1981

1981 - 1983

1981 - 1983

1981

1981 - 1984

1984

1984

1985 - 1989

2003

2005 - 2008