Indra Krishnamurthy Nooyi (Indra Nooyi)
Background
Raised in a middle-class family in India, Nooyi seldom did what people expected of her. Most young girls in India spent their time learning household chores; Nooyi played in an all-girl rock band and on a women's cricket team.

Nooyi has also been mentioned in two episodes of the hit CW show, Gossip Girl, where one of the main characters, Blair Waldorf plans to get an internship under her.
Career
She completed the MBA program at one of only two business schools in India and worked at Johnson & Johnson and Mettur Beardsell in India. Around the same time, a magazine advertisement for Yale School of Management caught her eye, and she impulsively applied. Much to her surprise, she was accepted. Even more surprising was the fact that her parents let her immigrate to the United States.

After working in planning strategy at Boston Consulting Company, Motorola and Asea Brown Boveri, she joined PepsiCo as senior vice president of corporate strategy and development in 1994.

Nooyi joined PepsiCo in 1994 and was named president and CFO in 2001. Nooyi has directed the company's global strategy for more than a decade and led PepsiCo's restructuring, including the 1997 divestiture of its restaurants into Tricon, now known as Yum! Brands. Nooyi also took the lead in the acquisition of Tropicana in 1998, and merger with Quaker Oats Company, which also brought Gatorade to PepsiCo. In 2006 she became the fifth CEO in PepsiCo's 44-year history.
Major achievements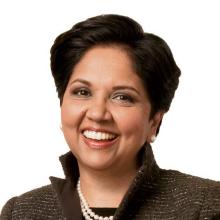 Born
October 28, 1955
(age 61)
Nationality
Ethnicity:
1974

1976

1978 - 1980

1980 - 1986

1986 - 1988

1988 - 1990

1990 - 1994

1994 - 2001

2001 - 2006

2006
Contributor  
Career

international corp. strategy projects Boston Consultant Group
corp. strategy & planning Motorola
corp. strategy & planning Motorola
vice president strategy
vice president strategic planning PepsiCo
vice president
vice president strategic planning PepsiCo
vice president strategic planning PepsiCo
vice president strategic planning PepsiCo
Johnson & Johnson
vice president strategic planning PepsiCo
PepsiCo
PepsiCo
PepsiCo
Asea Brown Boveri
Motorola
Motorola
Boston Consulting Group
Johnson & Johnson and Mettur Beardsell

Awards

Named a Power Player
named CEO of Year
named an Outstanding American of Choice
named one of 50 Women to Watch
recipient Padma Bhushan award
#6 on Forbes' list of the "World's 100 Most Powerful Women"
#1 on Fortune's list of the "50 Most Powerful Women"
CEO of the Year
One of America's Best Leaders
One of Most Powerful Women in business

Membership

Fellow: Am. Academy Arts & Scis.
Lincoln Center for the Performing Arts
World Justice Project

General Info
Relatives
Favorite Sports & Clubs
Favorite Athletes
Career Description
Go
up
Edit Profile