Ian Holm (Ian Holm Cuthbert)
Background
Education
Career
Around the early sixties, on stage and TV, Holm seemed like a leading actor of great potential. He was dark, thoughtful, and intense, and his Richard III at the Royal Shakespeare Company can be compared with those of Olivier and Ian McKellen. But Holm had handicaps: he liked to work regularly; he was versatile; and he was not tall. Thus he became what is known as a supporting actor, a prodigious worker, a shy comic, and a mark of reliability. The list is more even than these: The Bofors Gun (68, Jack Gold); The Fixer (68, John Frankenheimer); Oh! What a Lovely War (69, Richard Attenborough); as the Al Bowlly enthusiast in Dennis Potter's Moonlight on the Highway (69, James MacTaggart): A Severed Head (71, Dick Clement); Nicholas and Alexandra (71, Franklin Schaffner); Mary, Queen of Scots (71, Charles Jarrott); Young Winston (72, Attenborough); The Homecoming (73, Peter Hall); Juggernaut (74, Richard Lester); King John in Robin and Marian (76, Lester); March or Die (77, Dick Richards); Alien (79, Ridley Scott); the dour trainer in Chariots of Fire (SI, Hugh Hudson); The Return of the Soldier (82, Alan Bridges); as F. R. Leavis in The Last Romantics (82, Jack Gold); as Napoleon in Time Bandits (81, Terry Gilliam); the Belgian explorer in Greystoke (84, Hudson); very touching as the cuckold in Dance With a Stranger (85, Mike Newell); Wetherby (85, David Hare); as Lewis Carroll in Dreamchild (85, Gavin Miller); Brazil (85, Gilliam); Another Woman (88, Woody Allen); Henry V (89, Kenneth Branagh); Hamlet (90, Franco Zeffirelli); Kafka (91, Steven Soderbergh); Naked Lunch (91, David Cronenberg); and Blue Ice (93, Russell Mulcahv).

Holm was well established: he won a supporting actor nomination for Chariots of Fire. Yet his growing range and volume was something to behold. Just consider the one year 1997, which offered Holm in five films—the adaptation of his National Theatre King Lear (Richard Eyre); A Life Less Ordinary (Danny Boyle); The Fifth Element (97, Luc Besson); and two phenomenal performances, as the insurance investigator in The Sweet Hereafter (97, Atom Egovan), and as a New York cop who could have fooled Cagney in Night Falls on Manhattan (97, Sidney Lumet).

As well as all that, this great actor did The Hour of the Pig (93, Leslie Megahev); Pod in The Borrowers (93, John Henderson) and The Return of the Borrowers (93, Marv Norton); Frankenstein (94, Branagh); The Madness of King George (94, Nicholas Hvtner); with his new wife, Penelope Wilton, on TV in The Deep Blue Sea (94); Loch Ness (95, Henderson); Big Night (96, Stanley Tucci); eXistenZ (99, Cronenberg); Simon Magus (99, Ben Hopkins); The Match (99, Mick Davis); Sliergar (99, Dennis C. Lewiston); Alice Through the Looking Glass (99, Henderson); outstanding in Joe Gould's Secret (00, Tucci); the voice of Pilate in The Miracle Maker (00, Derek W. Hayes and Stanislav Sokolov); Esther Kahn (00, Arnaud Desplechin); Beautiful Joe (00, Stephen Metcalfe); Bless the Child (00, Chuck Russell); The Last of the Blonde Bombshells (00, Gillies MacKinnon); Napoleon in The Emperor's New Clothes (01, Alan Taylor); Gull in From Hell (01, Allen and Albert Hughes).

And then, Bilbo Baggins in The Lord of the Rings (01, Peter Jackson). In the first edition of this book, in 1975—when it was too late already—what a Bilbo Cagney might have made. Now Holm has the part and it signifies the class he honors.
Connections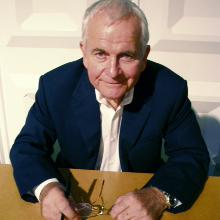 Born September 12, 1931
Nationality