Education
Career
Founding designer Project Xanadu, since 1960. Photographer and movie editor Communications Research Institute, Miami, Florida, 1962—1963. Instructor sociology Vassar, Poughkeepsie, New York, 1964—1966.

Assistant to the president Harcourt, Brace & World Publications, New York City, 1966—1967. Lecturer and media maker University Illinois, Chicago, 1973—1976. Co-founder Itty Bitty Machine Company, 1976.

Editor Creative Computing Magazine, Morristown, New Jersey, 1980—1981. Software designer Datapoint Corporation, San Antonio, 1981—1984. Distinguished fellow Autodesk Inc, Sausalito, California, 1988—1993.

Research fellow Sapporo HyperLab, Sapporo, Japan, 1994—1996. Professor Shonan Fujisawa Campus Keio University, 1996—2002. Visiting professor University Southampton, England, since 1997.

Lleverhulme visiting professor University Nottingham, England, 2003. Visiting fellow Oxford Internet Institute, England, since 2004. Software and usability consultant, since 1968.
Major achievements
Achievements include first to independent discovery, design and elucidation of interactive media, 1960-present. First to coined words hypertext, hypermedia. Design of Xanadu literary structure and software architecture, an ongoing family of software and document designs architected for side-by-side intercomparison, unrestricted re-use of content, and profuse links.

Invention of enfilades, rearrangeable multifunction tree structures. Invention of Zzstructure, a generalization of lists and tables into multidimensional lists, offering unique forms of connection and visualization. Patents in field.
Works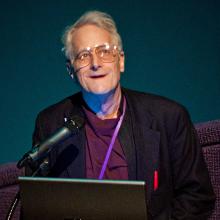 Born June 17, 1937
Nationality
1959

1962

2002

1960

1962 - 1963

1964 - 1966

1966 - 1967

1973 - 1976

1976

1980 - 1981

1981 - 1984

1988 - 1993

1994 - 1996

1996 - 2002

1997

2003

2004