Background
Career
Legislation assistant, counsel to Senator Simpson of Wyoming, 1962-1966. Secretary to natural resources committee and environmental pollution advisory panel Chamber of Commerce of the United States, 1966-1969. Deputy assistant secretary water and power development United States Department Interior, 1969-1972.

Director Bureau Outdoor Recreation, Washington, 1972-1975. Member, vice chairman Federal Power Commission, 1975-1977. President, chief legal officer Mountain States Legal Foundation, Denver, 1977-1980.

Secretary United States Department Interior, Washington, 1981-1983. Business consultant, 1983-1986, Jackson Hole, Wyoming, since 1986. Chairman board Environmental Diagnostics, 1984-1987, Disease Detection International, 1986-1990.

Instructor College Commerce and Industry, University Wyoming.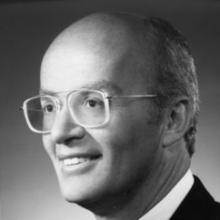 Born January 31, 1938
Nationality
1960

1962

1962 - 1966

1962 - 1966

1966 - 1969

1969 - 1972

1972 - 1975

1975 - 1977

1975 - 1977

1977 - 1980

1977 - 1980

1981 - 1983

1983 - 1986

1986
Contributor  
First Name
Other Names
Spelling variants for First Name
Spelling variants for Last/Family/Name
Activities

United States Secretary of the Interior
politician

Album
Ethnicity
College/University

University Wyoming
University Wyoming

Career

Bureau Outdoor Recreation

Description
Address
mainPhoto

United States Department Interior

Description
Address
mainPhoto

Description
Address
mainPhoto

Mountain States Legal Foundation

Description
Address
mainPhoto

Mountain States Legal Foundation

Description
Address
mainPhoto

to Senator Simpson of Wyoming
to Senator Simpson of Wyoming
to natural resources committee and environmental pollution advisory panel C. of C. of United States
secretary water and power development United States Department Interior
Federal Power Commission

Description
Address
mainPhoto

Federal Power Commission

Description
Address
mainPhoto

Position
Description
Start date
Finish date
Address
mainPhoto

board Environmental Diagnostics
ational
United States Department Interior

Major Achievements

Bar: Wyoming 1962, Supreme Court of the United States Court 1966.

General Info
Works

Author: (with Doug Wead) The Courage of a Conservative, 1985.

Link
Works description
mainPhoto

book: The Courage of a Conservative

Works description
mainPhoto

book: The Courage of a Conservative - Autographed

Works description
mainPhoto

Relatives

Erin Gaia Watt
Eric Gaius Watt
Lois M. (Williams) Watt
Leilani Bomgardner
William G. Watt

Religious beliefs
Views and World outlook
Quotations
Party affiliation description
Favorite Sports & Clubs
Favorite Athletes
Ethnicity details
College/University Description
Favorite Political Figures
Favorite Philosophers & Thinkers
Favorite Music & Bands
Favorite writers
Favorite Artists
Other interests
Personality
Quotes from others about the person
Physical Characteristics
Go
up
Edit Profile