Benjamin Netanyahu
Benjamin Netanyahu is an Israeli leader and the current Prime Minister of Israel. He serves also as the Chairman of the Likud Party, as a Knesset member, as the Health Minister of Israel, as the Pensioner Affairs Minister of Israel and as the Economic Strategy Minister of Israel.
Background
Related to the Rabbi Eliyahu of Vilna (the Vilna Gaon) on his paternal side, Netanyahu was born in Tel Aviv, to Benzion Netanyahu (original name Mileikowsky) and Cela (Segal). His mother was born in 1912 in Petah Tikva, part of the future British Mandate of Palestine that eventually became Israel. Though all his grandparents were born in the Russian Empire (now Belarus, Lithuania and Poland), his mother's parents emigrated to Minneapolis in the United States.Netanyahu's father, Benzion, was a professor of Jewish history at Cornell University, editor of the Encyclopaedia Hebraica, and a senior aide to Ze'ev Jabotinsky, who remained active in research and writing into his nineties.Netanyahu's paternal grandfather was Rabbi Natan Mileikowsky, a leading Religious Zionist rabbi and JNF fundraiser. Netanyahu's older brother, Yonatan, was killed in Uganda during Operation Entebbe in 1976. His younger brother, Iddo, is a radiologist and writer. All three brothers served in the Sayeret Matkal reconnaissance unit of the Israel Defense Forces.
Education
Massachusetts Institute of Technology.
Career
Executive Director Jonathan Institute Jerusalem 1978-1980. Senior Manager Rim Industries, Jerusalem 1980-1982. Deputy Chief of Mission, Israeli Embassy, Washington, D.C. 1982-1984.

Perm. Representative 1984-1988, Deputy Minister of Foreign Affairs since 1988.
Connections
father: Benzion

mother: Cela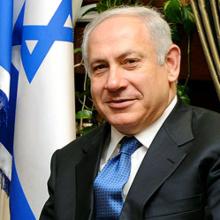 Born
October 21, 1949
(age 68)
Nationality
Ethnicity:
1976 - 2000

director, Jonathan Institute
Jerusalem, Yerushalayim, Israel

1976 - 1978

Consultant, Boston Consultant Group


1980 - 1982

director, marketing Rim Industries


1982 - 1984

deputy chief mission Government Israel
Washington, United States

1984 - 2000

member, Israeli delaware to United States-Israeli Strategic Talks


1988 - 1999

Member, Parliament Knesset


1988 - 1991

Member, Parliament Knesset


1991 - 1992

Member, Parliament Knesset


1993 - 1999

chairman, Likud Party


1996 - 1999

Member, Parliament Knesset


1998 - 2000

Member, Parliament Knesset


2000 - 2000

ambassador, to United Nations New York City


2002 - 2003

Member, Parliament Knesset


2003 - 2005

Member, Parliament Knesset


2005

chairman, Likud Party


2009

Member, Parliament Knesset

Award
Named one of The World's Most Powerful People

Forbes magazine, 2009
Contributor  
Place
College/University

Massachusetts Institute of Technology
Massachusetts Institute of Technology

Career

deputy chief mission Government Israel
Jonathan Institute
Boston Consultant Group
marketing Rim Industries
to United Nations New York City
Israeli delaware to United States-Israeli Strategic Talks
Parliament Knesset
Parliament Knesset
Parliament Knesset
Parliament Knesset
Parliament Knesset
Parliament Knesset
Parliament Knesset
Parliament Knesset
Likud Party
Likud Party

Address
Membership description
School and college years description
Career Description
Personality
Quotes from others about the person
Physical Characteristics
Go
up
Edit Profile