Background
Career
Editor-translator Mongolian Writers' Union, 1980—1990. Vice president and editor Mongolian Interpreters' Union, 1990—1992. First vice-chairman Culture and Art Development Com, 1990—1992.

Minister Culture, 1992—1996. Member Great Hural, since 1992, speaker, 2004—2005. Leader of the Opposition, 1997—2000.

Prime minister Mongolian Government, 2000—2004, president, 2005—2009. Leader Mongolian People's Revolutionary Party (Mongolian People's Revolutionary Party ), since 1997. World Bank advisory on Asian culture and Buddhist religion, since 1998.

Chair Mongolia-India friendship Association. Head National Council of Museums, 1995. International president Alliance of Religions and Conservation, since 2003.
Works
Translator several classic Russian novels novels. Author About Mongolian Arts, Literature and Emptiness, 1989, On the Indicators of Development from the Buddhist Point of View, 1998, Some Thoughts on the Relationship between Buddhist Philosophy and Economics, 1998, To Develop or Not to Develop, 1998.
Personality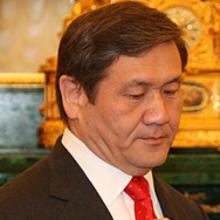 Born
June 1, 1958
(age 59)
Nationality
1980

1980 - 1990

1990 - 1992

1990 - 1992

1992 - 1996

1992

1997

2004 - 2005