Porter Johnston Goss
Porter Johnston Goss, former Central Intelligence Agency director, retired United States Representative from Florida. Director Lee County Mental Health Center, J.N. "Ding" Darling Foundation; director chairman Sanibel-Captiva Conservation Foundation; chairman board Canterbury School; member Southwest Florida Mental Health District Board Intelligence officer United States Army, 1960-1962.
Background
Career
Clandestine services officer Central Intelligence Agency, 1962-1971. Co-founder Island Reporter, Sanibel, Florida, 1973. Mayor City of Sanibel, 1975—1977, 1982, council member, 1974—1980, 1981—1982.

Commissioner County of Lee, Florida, 1983—1988, chairman, 1985—1986. Member United States Congress from 14th Florida district (formerly 13th Florida district), 1989—2004. Chairman United States House Permanent Select Committee on Intelligence, 1997—2004.

Director Central Intelligence Agency, Washington, 2004—2006. Port commissioner Southwest Florida Regional Airport.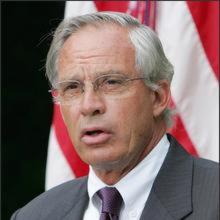 Born November 26, 1938
Nationality
1960

1962 - 1971

1973

1983 - 1988

1989 - 2004

1997 - 2004

2004 - 2006