Background
Education
Bachelor of Science, University Pennsylvania, Philadelphia, 1946. Bachelor of Laws, New York Law School, 1950. Degree (honorary), St. Thomas Aquinas College, Sparkill, New York, 1977.

Degree (honorary), Mercy College, Dobbs Ferry, New York, 1984. Degree (honorary), Yeshiva University, New York City, 1995. Degree (honorary), Dominican College, Orangeburg, New York, 2003.

Degree (honorary), University Bridgeport, Connecticut, 2003. Degree (honorary), Inje University, South Korea, 2004.
Career
Deputy assistant attorney general New York State Department Law, 1952-1954, assistant attorney general, 1954-1955. Partner Gilman & Gilman, Middletown, 1955-1972. Counsel New York Assembly's Committee on Local Finance, 1956-1964.

Member New York State Assembly, 1967-1972. Congressman 93d-97th Congresses from 26th New York district, 1972-1982, 20th district New York, 1983—2002. Senior counsel Finkelstein & Partners, New Windsor, 2003—2004.

Member Republican Congressional Policy Committee, 1997-2002. Member Presidential Commission on World Hunger, 1978-1980, co-chair Ad Hoc Committee on Irish Affairs, Republican Task Force on Handicapped and Task Force on Economic Policy. Member United States-Mexico Consultative Mechanism Subcommittee on Narcotics Trafficing, Government Reform Committee, House Public Office and Civil Services Committee, co-founder House Select Committee on Narcotics.

United States Congressional representative to 36th session United Nations General Assembly. Public delegate United States United Nations Mission 58th General Assembly, 2003. Member speaker's Task Force on Narcotics.

Chairman House Task Force on Prisoners of War and Missing in Action, 1983-1985, Human Rights Caucus. Member World Hunger Year Board. Member advisory committee New York State Division Youth's Start Center, 1962-1967.

Member New York State Southeastern Water Study Committee, 1971-1973, Lawyers' Committee for Civil Rights Under Law, 1963-1975. Member advisory committee Otisville Federal Correctional Institution. Vice president, board directors Orange County Health Association.

Advisory council Lamont-Doherty Geological Observatory, Columbia University, 1979-1982. Chairman House International Committee on Foreign Affairs, 1995-2001. Board directors Co-Operation Ireland, United States, since 2004, American International Learning Corporation, 2003.
Major achievements
Membership
Board directors Bnai Zion, since 2003, Humpty Dumpty Institute, National Legislation Office Jewish War Veterans, since 2000, Columbia University Gilman Fellows, 2002, American Friends of Shakespeare Birthplace Trust, since 2004. Member chairman's advisory board United States Institute for Peace. Advisor International Medical Relief Foundation, since 2004.
Member advisory council United States Global Leadership Campaign, since 2005. Member advisory committee on Public Policy for Population Institute, World Hunger Yearmem. Committee on Present Danger, since 2005, Haiti International Assessment Committee, International Republican Institute, since 2005.
Chairman board directors Middletown Little League. Trustee American University Antigua, since 2005. Board visitors United States Military Academy, 1973-1983.
Member Asia-Pacific Chief Executive Officer Association, United States World Holocuast Member Council, 1993-2002. Lieutenant colonel United States Army Air Force, 1943-1945, Japan, C.A.P., staff sergeant. Colonel New York National Guard.
Member American Bar Association, District of Columbia Bar Association, New York State Bar Association, Association of Bar of City of New York, Middletown Bar Association, Orange County Bar Association, Association Trial Lawyers American, Veterans of Foreign Wars (past county Commander), American Legion, Masonic War Veterans (lieutenant Commander), Jewish War Veterans, Forty and Eight, Air Force Association, International Narcotics Enforcement Officers, New York Law School Alumni (advisor), New York Society in Washington (president), Grange, La Société des 40 Hommes et 8 Chevaux, Masons (33 degree), Shriners (Capitol Hill president), Elks, DAV (honorary), Vietnam Veterans (honorary), National Sojourners.
Connections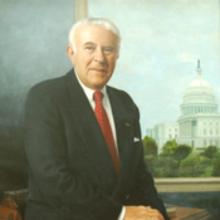 Born December 6, 1922
Nationality
1946

1950

1977

1984

1995

2003

2003

2004

1955 - 1972

1956 - 1964

1967 - 1972

1972 - 1982

1983 - 2002

2003 - 2004