Background
Career
Partner Riley & Riley, Greenville, 1959—1978, Nelson, Mullins, Riley & Scarborough, Greenville and Columbia, 1987—1993, Greenville, since 2001. Governor State of South Carolina, 1979—1987. Secretary United States Department Education, Washington, 1993—2001.

Distinguished university professor University South Carolina, Columbia, since 2001. Distinguished professor government, politics, public policy Furman University, since 2001. Special assistant to subcommittee United States Senate Judicial Committee, 1960.

Member South Carolina House of Representatives, 1963—1966, South Carolina Senate from Greenville-Laurens District, 1966—1976. Senior advisory and chair Richard W. Riley Institute Government, Politics and Public Leadership, Furman University, since 2001. Board directors ACT (American College Testing Program).

Board trustees Knowledge Works Foundation, since 2001. Trustee Carnegie Corporation New York, since 2004, Furman University, since 2001. Former board directors Public Broadcasting Service (Public Broadcasting Service).

Lieutenant (junior grade) United States Naval Reserve, 1954-1956.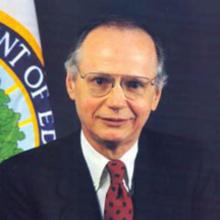 Born January 2, 1933
Nationality
1954

1959

1959 - 1978

1979 - 1987

1987 - 1993

1993 - 2001

2001

2001

2001