Education
Career
Vice president Wyoming Farm Bureau, Laramie, 1959-1966. National resource director American Farm Bureau, 1966-1975. General manager Wyoming Rural Electrical Association, 1975-1989.

Member Wyoming House of Representatives, 1984—1989, United States Congress from Wyoming, Washington, 1989—1995. United States Senator from Wyoming, 1995—2007. Member energy and natural resources committee, environment public works committee, finance committee, Indian affairs committee.

Served in United States Marine Corps, 1955-1959.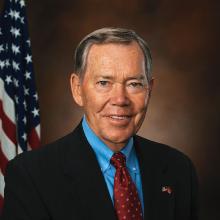 Born February 17, 1933
Nationality
1955

1963

1959 - 1966

1966 - 1975

1975 - 1989

1984 - 1989

1989 - 1995

1995 - 2007