Surin Pitsuwan
Surin Pitsuwan, Thai international organization official. Decorated Knight Grand Cordon Most Noble Order of the Crown of Thailand Most Exalted Order of the White Elephant; fellow, Winston S. Churchill Association, Rockefeller Foundation, Higher Institute Islamic Research, Cairo, American Political Science Association, 1983-1984.
Education
Bachelor in Political Science cum laude, Claremont Men's College, California, 1972. Master of Arts in Political Science and Middle Eastern Studies, Harvard University, Cambridge, Massachusetts, 1974. Doctor of Philosophy in Political Science and Middle Eastern Studies, Harvard University, Cambridge, Massachusetts, 1982.
Career
Columnist Nation and Bangkok Post, Thailand, 1975—1992. Lecturer, faculty political science Thammasat University, Thailand, 1978—1983, 1984—1986, academic assistant to dean, faculty political science, 1978—1986, vice rector academic affairs. Intern United States Republican Geraldine A. Ferraro, 1983-1984.

Staffer Senate Republican Conference, 1984. Lecturer Southeast Asian affairs American University, Washington, 1984. Member of Parliament, Nakorn Sri Thammarat House of Representatives, Thailand, secretary to the speaker, 1986, secretary to deputy minister interior.

Deputy minister foreign affairs Government of Thailand, 1992—1995, minister foreign affairs, 1997—2001. Member United Nations Commission on Human Security, 2001—2003, World Commission on the Social Dimension Globalization, 2002—2004. Member of Parliament National Legislation Assembly.

Secretary general Association Southeast Asian Nations, Jakarta, Indonesia, since 2008. Former deputy leader Democrat Party, Thailand. Member National Reconciliation Commission, Thailand.

Advisor International Commission on Intervention and State Sovereignty, 1999—2001. Chair, ministerial meeting and the regional forum Association Southeast Asian Nations, 1999—2000. Member Wise Men Group Henri Dunant Center Humanitarian Dialogue, Geneva, 2002—2004.

Advisory board United Nations Human Security Trust Fund, International Crisis Group. International academic advisor Oxford University Center Islamic Studies. Advisor Leaders Project.

Member, 1440 Ampere-hour (2020) Vision Commission Islamic Development Bank.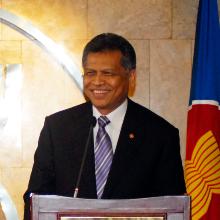 Born
October 28, 1949
(age 68)
Nationality
Ethnicity:
1972

1974

1982

1975 - 1992

1978 - 1983

1983 - 1984

1984 - 1986

1984

1984

1986

1992 - 1995

1997 - 2001

2001 - 2003

2002 - 2004

2008