Background
Career
Reporter, editor The Times Argus, Barre, Vermont, 1969-1985. Managing editor The Rutland (Vermont) Daily Herald, 1985-1988. Adjunct professor journalism St. Michael's College, Colchester, Vermont, 1988-1992, associate professor journalism, 1992-1995, writer, adjunct professor journalism, since 1996.

Editorial page editor Burlington (Vermont) Free Press, 1995-1996. Writer/teacher in field, since 1996. Participant American Press Institute, Reston, Virginia, 1986, New England Writers Workshop, Boston, 1989.
Membership
Co-chairman United States-Soviet Editors Exchange Program, New London, New Hampshire, 1982, member, Moscow, Leningrad, 1983, Middlebury, Vermont, 1987. Staff sergeant United States Air Force, 1963-1967. Member New England Society Newspaper Editors (president 1982-1983), New England Press Association (board directors 1986-1991).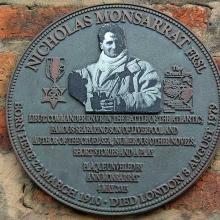 Born
December 26, 1941
(age 75)
1963

1969 - 1985

1985 - 1988

1988 - 1992

1995 - 1996