Roberto Lavagna
Roberto Lavagna, macroeconomist, former Argentinian government official. Grantee Kingdom of Belgium, Brussels, 1968, 70. Adviser Argentine Embassies in European and Latin America Integration Association, 1970-1984; chief economist 1st Political Party, Argentina, 1981-1984, 2d Largest Political Party, Argentina, 1994-1995; chief negotiator Argentina-Brasil-Mercosur Agreements, 1986-1987.
Background
Education
Career
National director, income policy Government of Argentina, 1973—1974, under secretary of public works, 1974. Chief Executive Officer large steel firm, Argentina, 1975-1976. Economic consultant several national and international organizations, Argentina, 1977-1984.

Minister of industry and foreign trade Government of Argentina, 1985—1987. Director Ecolatina Economic Consultant, Argentina, 1975—2000. Ambassador European Union, 2000—2002, World Trade Organization, Geneva, 2000—2002.

Minister of economy Government of Argentina, Buenos Aires, 2002—2005. Minister economy Ministry Economy & Production, 2002—2005. Candidate Presidency of Argentina Republican, 2007.

Thesis researcher Brussels, Belgium, 1969-1970. Professor University del Salvador, Argentina, 1970-1973, University Buenos Aires, 1972-1990. Counselor Consejo Argentino para las Relaciones Internacionales, 1991-1995.

Director Instituto de Desarrollo Economico, Argentina, 1993-1995. Associate researcher Harvard University, Boston, 1995. Lecturer in field.
Works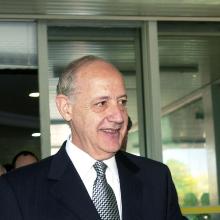 Born
March 24, 1942
(age 75)
Nationality
1966

1969

2002

2002

1973 - 1974

1975 - 1976

1975

1977 - 1984

1985 - 1987

2002 - 2005

2002 - 2005

2007