Luana DeVol
Luana DeVol, American vocalist, consultant. United States International University scholar, 1971; named Singer of Year Opern Welt, 1997, 2000, nominate 2003. Trustee Young Artists Festival, Bayreuth, Germany; Member Richard Wagner Society (honorary), American Guild Musical Artists, American-German Chamber of Commerce.
Education
Career
Assistant to board directors Spring Opera Theatre, San Francisco, 1972-1975. Assistant general manager Paramount Theatre, Oakland, 1975-1984. Soprano Mannheim National Theater, Germany, 1987-1991.

Opera singer Bayreuth, Berlin, Hamburg, Munich, Dresden, Leipzig, San Francisco, Florence, La Scala, Vienna, Paris, Helsinki, others. Private voice consultant. Guest lecturer University Maryland, Mannheim, 1991, 94 Seminar, European Singing Career, 1987, master class University Nevada, Las Vegas, 1996, 98, New York, 1999, Madrid, 2004.

Member editorial board The Oakland Paramount, 1988.
Works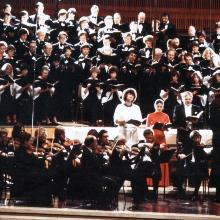 Born
November 30, 1942
(age 74)
1960

1962

1970

1972 - 1975

1975 - 1984

1987 - 1991