Career
His Lugosi u'as, beyond dispute, a daunting recreation thrust into the midst of an eccentric movie. It was, as such, rather more assertion than acting. But Landau's Bela did have the side advantage of making one forget the sheer unlikability of Mr. Landau. Perhaps a similar peace descended on the actor himself.

Landau, as he admits, has been around a long time—and not just on TV in Mission: Impossible (1966-69), in which he played with his wife, Barbara Bain. He had been a newspaper cartoonist before becoming an actor, and he is a longtime member of the Actors Studio.

Yes, that is him, as one of the sadistic heavies, "Leonard," in North by Northwest (59, Alfred Hitchcock). He has also done Pork Chop Ilill (59, Lewis Milestone); The Gazebo (60, George Marshall); Stagecoach to Dancer's Rock (62, Earl Bellamy); Cleopatra (63, Joseph I,. Mankiewicz); The Greatest Story Ever Told (65, George Stevens); The Hallelujah Trail (65, John Sturges); Nevada Smith (66, Hemy Hathaway); They Call Me Mister Tibbs (70, Gordon Douglas); A Town Called Hell (71. Robert Parrish); Black Gunn (72, Robert Hartford-Davis); Strange Shadows in an Empty Room (77, Martin Herbert); Meteor (79, Ronald Neame): Without Warning (80, Greydon Clark); Alone in the Dark (82, Jack Sholder); The Being (83. Jackie Kong); Cyclone (87. Fred Olen Rav); Sweet Revenge (87, Martin Sobel); and so to Tucker.

Paragraph break to mark a film you've heard of—and some reason for appreciating Landau's tearv gratitude for a nomination after all that dross. Then: Trust Me (89. Bobbv Houston); Paint It Black (89, Tim Hunter)—not exactly released; good in Mistress (91, Barry Primus); Sliver (93, Phillip Noyce); Intersection (94, Mark Rydell); City Hall (96, Harold Becker); BAPS (97, Robert Tov'nsend); Rounders (98, John Dahl); The X-Files (98, Rob Bowman); Ed TV (99, Ron Howard); the old man in Bonanno: A Godfather's Start (99, Michael Poulette); Geppetto in The New Adventures of Pi nocchio (99, Michael Anderson); Sleepy Hollow (99, Burton): Ready to Rumble (00, Brian Robbins); Very Mean Men (00, Tonv Vitale); Abraham on TV in In the Beginning (00, Kevin Connor); The Majestic (01, Frank Darabont).
Major achievements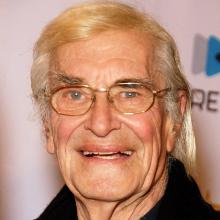 Born June 20, 1928
Nationality
Ethnicity: