Background
Career
Mazursky began with a juicy box-office success, an amiable satire on the new permissiveness and its fashion for encounter-group philosophy. But the wide appeal of his first film soured some critics, so that they thought the picture opportunist, light-weight, and cynical. It begins at an encounter-group session in which Robert Culp and Natalie Wood discover their freedom, independence, and responsibility amid the embraces of a body- contact group. Far from being sly or superior, M azursky managed to show that what might seem a comic, undignified performance was actually capable of a domestic revolution. As Culp and Wood preach their new doctrine, to themselves and to friends Elliott Gould and Dyan Cannon, Mazursky never loses control of searching comedy of manners, real vulnerable feelings, and the way his characters are torn between idealism and prejudice. At its heart there lay the intriguing notion that sexuality and marriage might be too important to people to require liberation: some of us need some prisons. With excellent performances—especially from a revived Natalie Wood—and a fluent style, Bob & Carol awaits the remorse of some critics. Now that its first gloss has passed, it should he easier to see that it is a serious eomedv where we laugh on behalf of the characters.

Mazursky showed his mettle by taking as his second project his own situation—a young director with one hit, wondering what to do next. Alex in Wonderland is a deliberately indulgent film that can have had little doubt about being a Hop. It suffers from the shadow of 8/2, but lacks the nerve to satirize Fellini. Its dream sequences are a mess. But those scenes involving the director and his family are observant, fresh, and touching, and make excellent use of Donald Sutherland, Ellen Burstvn, and Mazurskys own daughter. In addition, Mazursky contributes a witty cameo as a movie mogul that reveals sharp timing and taste for unmalieious caricature.

Alex in Wonderland may have been made to restore his own equilibrium. It was worth it if it assisted the clear advance in maturity of Blame in Love, the story of a man trying to regain his divorced wife. As in his debut, Mazursky reexamines the institution of marriage (and divorce) and reasserts the strength of affection and tenderness. More than in Bob ir Carol. . . , pain intrudes in Blame in Love and excludes any note of flippancy or modishness. George Segal and Susan Anspach are always alert to its fragile tone and underlying character.

Greenwich Village was a very underrated study of a bohemian group, hut An Unmanned Woman was a good movie right on target with public taste. Its ending is soft, hut it was still two-thirds honest on divorce.

Mazursky has remained congenial, good- natured. and capable of rising to fine material. Thus Beverly Hills and Parador are coarsegrained, unashamed entertainments—and both very funny. Yet Enemies is worthy of Renoir, a comedy of lies and consequences, beautifully acted, not least by the slippery Ron Silver who embodies Mazursky's fondness for dishonest heroes. In hindsight, it's hard to know why Willie ir Phil did so poorly, or Moscow on the Hudson so well. But Mazursky is seldom less than good value (Scenes from a Mall is the one film that failed to take—hut Allen is a long way from Mazurskys rowdy, generous nature).

In most cases, Mazursky helps write his own pictures, and he has an irrepressible urge to pop up here and there as an actor, notably as a weary judge in Carlito's Way (93. Brian De Palma).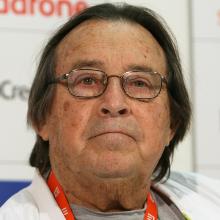 Born April 25, 1930
Died
June 30, 2014
(aged 84)
Nationality
Ethnicity: