Background
Education
Career
Member of Parliament, since 1977. Parliamentary Private Secretary to Minister of State for Prices and Consumer Protection, 1977-1979. Opposition Whip, 1980-1985.

Shadow Spokesman on Trade and Industry, 1987-1989. Laboratory Spokesman on Satellite Television, 198992. Lecturer. Otago University, New Zealand, 1959-1963.

Senior lecturer in politics, University of Canterbury, New Zealand, 196367. Official Fellow, Nuffield College, Oxford, 1967-1969. Journalist, Yorkshire Television, 1969-1977.

Presenter, British Broadcasting Corporation, 1972-1973. Director, Pennine Radio, 1975-1979. Presenter. Sky TV, since 1989.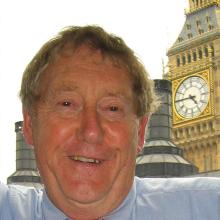 Born September 19, 1934
Nationality
1956

1957

1959 - 1963

1959 - 1963

1963 - 1967

1967 - 1969

1969 - 1971

1972

1973 - 1977

1977

1989 - 1998
Contributor  
Other Names
Spelling variants for First Name
Spelling variants for Last/Family/Name
Middle Name
Gender
Album

Photo
Photo
Photo
Photo
Photo
Photo
Photo
Photo
Photo
Photo
Photo

Nationalities

New Zealand
New Zealander

College/University

Manchester University
Nuffield College

Career

lecturer politics University Canterbury

Location
Description
Address
mainPhoto

history Otago University

Description
Address
mainPhoto

Nuffield College

Description
Address
mainPhoto

history Otago University

Description
Address
mainPhoto

journalist Yorkshire television Leeds

Description
Address
mainPhoto

journalist Yorkshire television Leeds

Description
Address
mainPhoto

presenter Yorkshire television

Description
Address
mainPhoto

of parliament Great Grimsby

Description
Address
mainPhoto

co-presenter Target

Description
Address
mainPhoto

Address
Works

Author: Whigs in Opposition 1815-1830, 1969, People and Politics in New Zealand, 1969, Westminster Man, 1982, The Case for Labour, 1983, Britain: Beyond the Blue Horizon, 1989, Competitive Socialism, 1989, Teach Thissen Tyke, 1979, Last Time Labours Lessons from the Sixties, 1997, Parliament in Pictures, 1999, Farewell My Lords, 1999.

Link
Works description
mainPhoto

book: The Whigs in Opposition 1815-1830

Works description
mainPhoto

book: Politics and people in New Zealand

Works description
mainPhoto

book: POLITICS AND PEOPLE IN NEW ZEALAND. Studies.

Works description
mainPhoto

book: Britain: Beyond the Blue Horizon

Works description
mainPhoto

book: Competitive Socialism (The Fabian Series)

Works description
mainPhoto

book: Last Time: Labour's Lessons from the Sixties

Works description
mainPhoto

book: Parliament in Pictures: Inside the House of Commons and the House of Lords
book: Farewell my Lords
book: The Whigs in Opposition: 1815-1830.

Works description
mainPhoto

book: Parliament in Pictures: Inside the House of Commons and the House of Lords by Mitchell, Austin (September 1, 1999) Hardcover

Works description
mainPhoto

book: Westminster Man

Works description
mainPhoto

book: The Case For Labour

Works description
mainPhoto

book: Case for Labour

Works description
mainPhoto

Views and World outlook
Quotations
Party affiliation description
Favorite Sports & Clubs
Favorite Athletes
Ethnicity details
College/University Description
Favorite Political Figures
Favorite Philosophers & Thinkers
Favorite Music & Bands
Favorite writers
Favorite Artists
Personality
Quotes from others about the person
Physical Characteristics
Go
up
Edit Profile