Education
Career
Surgical officer to surgical registrar London Chest Hospital, 1962. Rotating senior surgical registrar National Heart and Chest Hospital and Brompton Hospital, London, 1964—1968. Started pioneering heart surgery, 1967.

Joined Harefield Hospital, London, 1969. Instructor, assistant professor University Chicago Medical School, 1969. Consultant cardiothoracic surgeon National Heart Hospital-Royal Brompton and Harefield National Health Service Trust, London, 1973—1989.

British Heart Foundation professor cardiothoracic surgery National Heart and Lung Institute, 1986—2006. Professor cardiothoracic surgery National Heart and Lung Institute, Imperial College Faculty Medicine, since 1986. Founder, director research Magdi Yacoub Research Institute, Harefield (formerly known as Harefield Research Foundation), since 2001.

Retired from performing surgery and National Health Service, 2001. Special envoy National Health Service, 2002. Consultant and ambassador for the benefits of transplant surgery.
Major achievements
Achievements include involved in first United Kingdom heart transplant in 1980. Carried out the first United Kingdom live lobe lung transplant. First ever domino operation, in which one patient with failing lungs is given a new heart and lung, with a second petient receiving the first patients fully functioning heart.

Has performed more transplants than any other surgeon in world. Established the Chain of Hope Charity in 1995, which sends teams of medics to the developing world to treat children suffering from heart disease free of charge. Briefly returned to medical career in 2006 to give advice on removing a transplant heart from a girl whose own heart had recovered.

Organized a recruitment campaign for overseas doctors in 2002 on behalf of the United Kingdom government.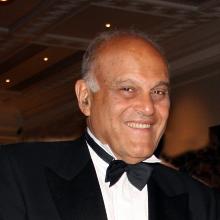 Born November 16, 1935
Nationality
1957

1962

1964 - 1968

1967

1969

1969

1969

1973 - 1989

1986 - 2006

1986

2001

2002