Background
Career
Reporter Buffalo Evening News, 1958—1959. Assistant director public relations National Gypsum Company, Buffalo, 1959—1962. Manager public relations Owens-Corning-Fiberglas, Toledo, 1962—1968.

Director public relations and merchandising, 1968—1972. General manager decorative and home furnishings division, 1972—1976. General manager Weaver Products Division, 1976—1978.

Vp public affairs Beatrice Foods Company, Chicago, 1978—1980. Senior vice president, director corporation relations, since 1980. Former vice president, treasurer Greater Toledo Public television Found.

Member business advisory committee University Illinois. Former trustee Maumee Valley Country Day School. Member President's Council, National College Education, Chicago Advisory Committee Local Initiative Support Group.

Trustee, treasurer North Shore Country Day School. With Counter Intelligence Corps United States Army, 1959-1961.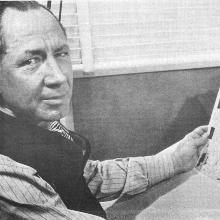 1958

1958 - 1959

1959 - 1962

1962 - 1968

1968 - 1972

1972 - 1976

1976 - 1978

1978 - 1980

1980

1980