James Clement Dunn
James Clement Dunn, United States career ambassador. Decorated Victory medal, Order Leopold II (Belgium); grand cross Order of Knights of Malta; grand crosss Order Star of Italy; grand cross Order Isabell II of Spain; grand cross Order Southern Cross Brazil; Distinguished Service Medal, United States Department State. Member clubs: Metropolitan (governor), Alibi, Chevy Chase (Washington), Knickerbocker, River, Regency, Whist (New York City).
Background
Career
Practiced as architect, 1913-1917. Assistant naval attaché Havana, 1917-1919. 3d secretary embassy Madrid, Spain, 1920-1922.

Charge d'affaires Port au Prince, Haiti, 1922-1924. 1st secretary American embassy, Brussels, Belgium, 1924-1927. Director ceremonies at White House, Washington, 1924-1930, chief Division of International Conference and Protocol, 1928-1930, 31-35.

Counselor to Commission for Study of Haiti, 1930. 1st secretary American embassy, London, 1930. Secretary delegate 4th Pan-American Commercial Conference, Washington, 1931.

Secretary general American delegate 1st stage General Disarmament Conference, Geneva, 1932. Also assistant 1st meeting expert's preparatory committee International Monetary and Economic Conference, Geneva. Secretary general American delegate International Monetary and Economic Conference, London, 1933.

Secretary general American delegate 7th International Conference American States, Montevideo, 1933. Special assistant to secretary of State, 1934, chief Division Western European Affairs, 1935-1937, advisor on political relations, 1937-1944, director Office of European Affairs, 1944, appointed assistant secretary of State, 1944. Member United States group Dumbarton Oaks Conversations on International Organization, Washington, 1944.

Advisor United States delegate United Nations. Conference, San Francisco, 1945. Chief political advisor Berlin Conference, 1945.

Deputy to the United States member meetings of Council of Foreign Ministers, London, Paris, New York City, 1945-1946, Paris Peace Conference, 1946. Ambassador to Italy, 1946-1952, France, 1952-1953, Spain, 1953-1955, Brazil, 1955-1956. With United States Naval Reserve, 1917-1919.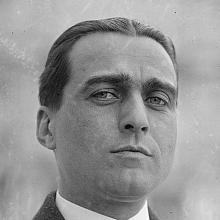 1913 - 1917

1917 - 1919

1920 - 1922

1922 - 1924