Background
Career
Architectural draftsman Arthur E. Tennyson Architects, Pittsburgh, 1959-1962. Architectural designer Diehl and Stein Architects, Princeton, New Jersey, 1962—1963. Staff architect Hankin and Hyres, Trenton, 1963—1967.

Architect Mahony and Zvosec, Princeton, 1967-1971. Director architectural planning department General Housing Industries, State College, Pennsylvania, 1971-1972. Founder, principal Haas Bldg Solutions, since 1972.

Secretary, treasurer Pennsylvania Architects Licensure Board, 1998—2002, vice president, 2002—2003. Member advisory board directors PNC Bank of Central Pennsylvania, 1998—2005. President Pennsylvania Architects Licensure Board, 2004, 05.
Major achievements
Works
Principal works include Nittany Apartment Housing, The Meadows Clinic, Fraser St. Parking Garage, BCH Office Building, Geisinger Medical Clinic, The Bryce Jordan Convocation Center, Pennsylvania State University (all State College), Beaver Stadium Expansion, Pennsylvania State University, Recreation Center, Lycoming College, Williamsport, Pennsylvania.
Membership
Campaign cabinet Centre County United Way, 1994-1996, board directors 1998-2008. County chairman United Way Campaign, 1997. Board directors Chamber of Business and Indiana of Centre County, 1996-2003.
Captain United States Army, 1958-1959. Member American Institute of Architects (president middle Pennsylvania chapter 1986-1987), National Council Architectural Registration Boards, Pennsylvania Society Architects (president 1993), State College Area Chamber of Commerce (president 1990-1991, board directors 1984-1992), Rotary (president 1988-1989, board directors).
Connections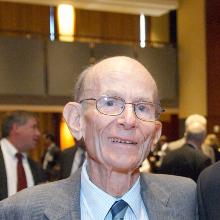 Born November 3, 1934
Nationality
1958

1959 - 1962

1962 - 1963

1963 - 1967

1967 - 1971

1971 - 1972

1972