Joseph Lister Hill
Joseph Lister Hill, American senator. Lister Hill Library of Health Sciences, University Alabama-Montgomery named in his honor, 1971, Lister Hill National Center biomedical Communications named in his honor, 1968. President Montegomery Board Education, 1916. With United States Army, 1917-1919, World War I.
Background
Education
Career
Admitted to bar of Alabama, 1915. Began practice of law at Montgomery, Alabama, October 1916. President, Montgomery Board Education, 1917-1922.

Served in Army with 17 and 71 United States Infantry Regts. during World War, 1917-1919. Elected to 68 Congress to fill vacancy caused by death of John R. Tyson and served from August 1923- March 1925. Renominated and re-elected to 69-71 Congresses.
Works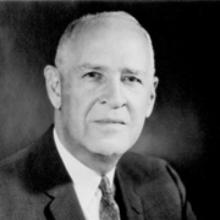 Born December 29, 1894
Nationality
Contributor  
Other Names
Spelling variants for First Name
Spelling variants for Last/Family/Name
Middle Name
Album
College/University

University Alabama
Columbia University

Career

from Alabama United States House of Representatives

Description
Address
mainPhoto

United States Senate

Description
Address
mainPhoto

Awards
Address
Works

Author, co-author numerous pieces of legislation relating to libraries and medical research, the Tennessee Valley Authority Act, Rural Telephone Act, Rural Housing Act, Vocational Education Act, National Defense Education Act, Hill-Harris Act, others.

Link
Works description
mainPhoto

Relatives

Lilly Lyons Hill
Henrietta McCormick
Luther Leonidas

Religious beliefs
Views and World outlook
Quotations
Party affiliation description
Favorite Sports & Clubs
Favorite Athletes
Ethnicity details
College/University Description
Favorite Political Figures
Favorite Philosophers & Thinkers
Favorite Music & Bands
Favorite writers
Favorite Artists
Other interests
Personality
Quotes from others about the person
Physical Characteristics
Go
up
Edit Profile