Background
Education
Career
From councillor to chief specialist Planning Committee Warsaw, 1972-1982. Director for study and analysis Consultant Economic Council Warsaw, 1982-1987, general secretary, 1987-1989. Secretary PZPR Center Committee, Warsaw, 1989.

Minister foreign economic cooperative Warsaw, 1989-1991. Independent advisor Warsaw, 1991—1994, 2001—2002. Mayor City of Warsaw, 1994-1999.

Undersecretary of state and member negotiating team Minister of Economics responsible for relations with European Union, 1999—2000. Coordinator economic and environmental activities Organization for Security and Cooperation in Europe, 2002—2005. Director United Nations Development Programme, Blue Ribbon Analytical and Advisory Center, Kyiv, Ukraine.

Scientific worker Polish Academy of Sciences, Warsaw, 1991-1994. Participant Round Table Debates, Warsaw, 1989. Advisory to Lithuanian Government, Warsaw, 1993, the President of Lithuania, 2000-2001.

Deputy chairman Parlimentary Commission for Foreign Relations, Warsaw, 1993.
Membership
Active Polish United Workers Party, Warsaw, 1974-1990, Freedom Union, Warsaw, since 1993. Vice president Democratic Party, 2006-2007. National council member Democratic Union, Democratic Party, Warsaw, since 1994.
Deputy Polish Parliament, Warsaw, 1989-1991, 93-96. Co-founder, president Polish Committee Supporting Establishment of Museum of History of Polish Jews, since 1997, Old Powazki Cementary Committee, since 2001. Member Polish Association for Club of Rome (treasurer 1987), Polish Fullbright Alumni Association (founder, vice president 1993), Business Center Club.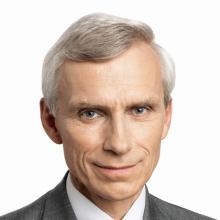 Born
April 17, 1947
(age 70)
Nationality
Ethnicity:
1970

1971

1976

1981

1985

1972 - 1982

1989

1989 - 1991

1991 - 1994

1994 - 1999

1999

2001 - 2002

2002 - 2005