Education
Career
He was admitted to the bar in 1849. Instead of commencing practice, however, he headed to California, arriving September, 1850, and was a gold miner for three years.

He then opened a law office in Nevada City where he practice until 1861. During that time he served one term in the State Assembly, to which he was elected in 1856. In 1861, he was elected judge of the fourteenth district court, in which capacity he served for two terms. At the end of that time he retired from the bench, and commenced practice in Sacramento, which he continued for the next twelve years, except an interval during which he served as Register of the United States Land Office at Sacramento, accepting this position at the suggestion of Aaron A. Sargent. In 1879, McFarland served as a member of the convention which framed the existing Constitution of California.

In 1882, he was appointed to fill a two-years vacancy upon the bench of the Sacramento County Superior Court by Governor George Clement Perkins; and in 1884 was elected for the full term. In 1886, however, he was elected for a full term as associate justice of the Supreme Court of California, whereupon he resigned his superior judgeship, and took his seat upon the bench of the Supreme Court in January, 1887.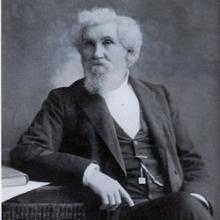 Born April 19, 1828
Died
September 16, 1908
(aged 80)
Nationality
Ethnicity: