Anthony Joseph Principi
Anthony Joseph Principi, pharmaceutical company executive, former United States Secretary of Veterans Affairs. Decorated Bronze Star with combat "V", Vietnamese Cross of Gallantry, Navy Commendation medal with combat "V" (3); recipient Meritorious Service medal VA, 1983. Member American Bar Association (chairman subcommittee general practice section since 1985).
Background
Education
Career
Commissioned Second lieutenant United States Navy, 1967, advanced through grades to Commander, 1984, line officer Washington, 1967-1972. Attorney Judge Advocate General Corps, San Diego, 1975-1980. Counsel Committee on Armed Service United States Senate, Washington, 1980-1983, staff director Committee on Veterinary's Affairs, 1984—1988.

Deputy administrator congressional & public affairs VA, 1983-1984. Deputy secretary United States Department Veterans Affairs, 1989-1990, acting secretary, 1992—1993. Partner Luce, Forward, Hamilton & Scripps, San Diego, 1990-1995.

Senior vice president, Chief Executive Officer Lockheed Martin Intellectual Property Multimedia Subsystem Integrated Solutions Company, Santa Clara, 1995-2001. President QTC Medical Services, Inc., 2001. Secretary United States Department Veterans Affairs, Washington, 2001—2005.

Chairman QTC Management, Inc., Alexandria, Virginia, since 2005. Vice president government relations Pfizer, Inc., Washington, since 2005. Chairman Base Realignment & Closure (BRAC) Commission, since 2005.

Board directors Perot Systems Corporation, since 2005.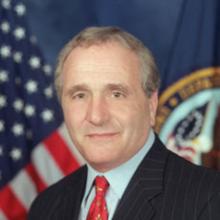 Born
April 16, 1944
(age 73)
Nationality
1967

1975

1967

1975 - 1980

1980 - 1983

1983 - 1984

1984

1990 - 1995

1995 - 2001

1995 - 2001

2001 - 2005

2001

2005

2005