Ananda Mohan Chakrabarty
Ananda Mohan Chakrabarty, Indian microbiologist. Named Scientist of Year, Industrial Research Magazine, 1975; recipient Inventor of the Year award, Patent Lawyers' Association, 1982, Public Affairs award, American Chemical Society, 1984, Distinguished Scientist award, Environmental Protection Agency, 1985, Merit award, National Institutes of Health, 1986, Pasteur award, 1991, Proctor & Gamble award, 1995; scholar, University Illinois, 1989.
Background
Education
Career
Senior research officer University Calcutta, 1964-1965. Research associate biochemistry University Illinois, Urbana, 1965-1971, professor department microbiology Medical Center, 1979-1989, distinguished professor, since 1989. Member staff General Electric research and development center, Schenectady, New York, 1971-1979.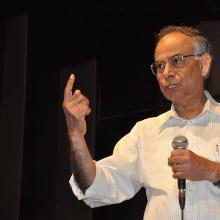 Born April 4, 1938
Nationality
1958

1960

1965

1964 - 1965

1965 - 1971

1971 - 1979