Rodolfo Saglimbeni
Rodolfo Saglimbeni, Venezuelan conductor, performing arts educator, foundation administrator. Board directors State Foundation National Systems Children and Youth Orchestras Venezuela, Caracas, since 1994, Teresa Carreño Theatre Foundation, Caracas, since 1994; artistic director Friends of Gran Mariscal de Ayacucho Symphony, since 1994.
Background
Education
Career
Principal trumpet National Youth Orchestra Venezuela, Barquisimeto, 1977-1981, professor trumpet, 1978-1980. Assistant conductor Caracas (Venezuela) Philharmonic Orchestra, 1980-1981, Venezuelan Symphony Orchestra, Caracas, 1988-1993. Professor conducting Simon Bolívar Conservatory, since 1989.

Artistic director, principal conductor Gran Mariscal de Ayacucho Symphony Orchestra, since 1989. Professor conducting University Institute Musical Studies, since 1990.
Works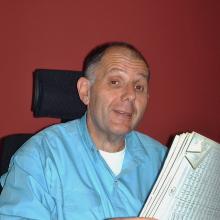 Born
December 8, 1962
(age 54)
Nationality
1985

1985

1986

1977 - 1981

1980 - 1981

1988 - 1993

1989

1989

1990