Ivan Prudnikov (Ivan Savelyevich Prudnikau)
Prudnikau
Background
Ivan Prudnikov was born 16.06.1919 in the villiage of Paparatka, Klimavichi disrtict of Homel region (now in Mahilou district). His parents were peasants. In 1924 the family moved to Krasnodar Kray following the state campaign for populating the Kuban lands. In 1933 he returned to his homeland, but soon moved to Kramatorsk, Donetsk Region, Ukraine.
Education
Career
From summer of 1941 Prudnikov began to work at Stalingrad Tractor Works as a technologist, later he became a mashine-tool ajuster in the section that produced T-34 tanks. From Seprember of 1942 till March of 1946 Prudnikov worked at M. Frunze factory 724 that had been evacuated from Sumy to Chirchik. (Tashkent region) He was the head of the bureau for tools and devices. After the World War II, in 1946 Prudnikov began to work at Research Institute 88 in the department of Sergey Korolev. (Now S. P. Korolev Cosmic Corporation "Energiya") He took part in designing the R-1 rocket and R-2 rocket-carrier. Prudnikov attended postgraduate cources, in 1955 defended a candidat dissertation S. Korolev was his scientific adviser. In 1956 Prudnikov became the chief of the division, which was designing rhe main parts of ballistic rockets. In 1958 he became a doctor of technical sciences, and in 1961 recieved the Lenin prize. From 1966 till 1974 he was the head of the department, for designing launching spaceships and developing outer-space rocket complexes for Zvezda-2 mission to the Moon. Officially in retirement from 1982 he continued to work as a senior researcher at "Energiya" till 1995. He was involved practically in all projects for designing rockets and outer-space equipment and exploring outer space. He also took part in the development of the piloted missions to the Moon.
Major achievements
In 1955 after postgraduate cources Prudnikov defended a candidat dissertation. Than he became a doctor of technical sciences, prepared two candidats of technical sciences. Has got two inventor's certificate.

Besides the Lenin prize, Ivan Prudnikov was awarded a medal "For the Valorous Labour" and an order of Labour Red Banner.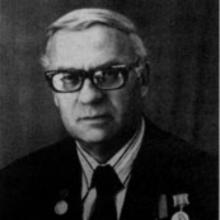 Born June 16, 1919
Nationality
Ethnicity:
1955

1936 - 1941

July, 1941 - August, 1941

September, 1941 - August, 1942

September, 1942

1946 - 1956

1956 - 1966

1966 - 1974

1974 - 1982

1982 - 1995