Education
Career
Jarrell's first collection of poetry, Blood from a Stranger, which was heavily influenced by W.H. Auden, was published in 1942 – the same year he enlisted in the United States Army Air Corps. His second and third books, Little Friend, Little Friend (1945) and Losses (1948), drew heavily on his Army experiences. The short lyric "The Death of the Ball Turret Gunner"is Jarrell's most famous war poem and one that is frequently anthologized. It presents the soldier as innocent and child-like, placing blame for war on "the State."

However, during this part of his career, Randall Jarrell earned a reputation primarily as a critic, rather than as a poet. Encouraged by Edmund Wilson, he quickly became a fiercely humorous critic of fellow poets.Whose criticism began to change, showing a more positive emphasis, in the post-war period. RandallJarrell is also noted for his essays on Robert Frost. His reputation as a poet was not firmly established until 1960, when his National Book Award-winning collection The Woman at the Washington Zoo was published. Starting with this book,Randall Jarrell broke free of Auden's influence and the influence of the New Critics and developed a style that mixed Modernist and Romantic influences, incorporating the aesthetics of William Wordsworth in order to create more sympathetic character sketches and dramatic monologues.

In addition to poetry and criticism, Randall Jarrell also published a satiric novel, Pictures from an Institution, in 1954 (a National Book Award for Fiction finalist) — drawing upon his teaching experiences at Sarah Lawrence College, which served as the model for the fictional Benton College. Plus, he also wrote several children's books, among which The Bat-Poet (1964) and The Animal Family (1965) are considered prominent (and feature illustrations by Maurice Sendak). Randall Jarrell translated poems by Rainer Maria Rilke and others, a play by Anton Chekhov, and several Grimm fairy tales.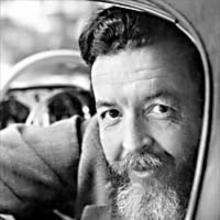 1935

1939 - 1942

1947 - 1965