Banjo Paterson (Paterson, Andrew Barton)
Background
Ethnicity: He is the eldest son of Andrew Bogle Paterson, a Scottish immigrant from Lanarkshire and Australian-born Rose Isabella Barton, related to the future first Prime Minister of Australia Edmund Barton.
Education
Career
After completing school the 16-year-old Paterson was articled to a Sydney firm of solicitors, Spain and Salway. He was admitted as a solicitor in 1886 and formed the legal partnership, Street and Paterson. During these years Paterson began publishing verse in the Bulletin and Sydney Mail under the pseudonyms 'B' and 'The Banjo'.

In 1895, at the age of 31 and still in partnership with Street, Andrew Barton Paterson achieved two milestones in Australian writing. He composed his now famous ballad 'Waltzing Matilda' and his first book, The Man from Snowy River, and other verses, was published by Angus & Robertson, marking the beginning of an epoch in Australian publishing. This hallmark publication sold out its first edition within a week and went through four editions in six months, making Paterson second only to Kipling in popularity among living poets writing in English. His poetry continues to sell well today and is available in many editions, some of which are illustrated.

Paterson travelled to South Africa in 1899 as special war correspondent for The Sydney Morning Herald during the Boer War, and to China in 1901 with the intention of covering the Boxer Rebellion but he arrived after the uprising was over. By 1902 Paterson had left the legal profession. The following year he was appointed Editor of the Evening News (Sydney), a position he held until 1908 when he resigned to take over a property in Wee Jasper.

During World War I Paterson sailed to Europe hoping for an appointment as war correspondent. Instead, during the course of the war he was attached as an ambulance driver to the Australian Voluntary Hospital in France and was commissioned to the 2nd Remount Unit of the AIF. He was eventually promoted to Major.

Banjo Paterson on the Australian $10 note.In Australia again he returned to journalism, retiring in 1930. He was created CBE in 1939. At the time of his death on 5 February 1941 his reputation as the principal folk poet of Australia was secure. His body of work included seven volumes of poetry and prose in many editions, a collection The Collected Verse of A.B. Paterson (1923), a book for children The Animals Noah Forgot (1933), and an anthology The Old Bush Songs (1905), in addition to his many pieces of journalism and reportage. Paterson's role in Australian culture has been celebrated on the Australian $10 note.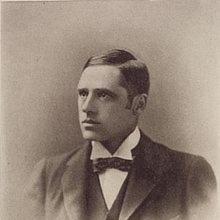 Died
February 5, 1941
(aged 76)
Nationality