Elinor Ostrom (born Elinor Claire Awan)
Background
Elinor Ostrom was born Elinor Claire Awan in Los Angeles, California, the only child of Leah (born Hopkins) and Adrian Awan. Her father was Jewish, while her mother was Protestant. She attended a Protestant church and often spent weekends staying with her aunt, one of her father's sisters, who kept a kosher home. Her parents were poor, especially when her father left her mother.

She married political scientist Vincent Ostrom in 1963.
Education
Join the debate team in the junior year of high school and participated actively in speech competitions around the state, was also a member of a swimming team.

Ostrom graduated from Beverly Hills High School in 1951 and then received a B.A. (with honors) in political science at UCLA, in 1954. She was awarded an M.A. in 1962 and a PhD in 1965, both from UCLA Department of Political Science.
Career
In 1973, she co-founded the "Workshop in Political Theory and Policy Analysis" at Indiana University with her husband, Vincent Ostrom. Examining the use of collective action, trust, and cooperation in the management of common pool resources (CPR), her institutional approach to public policy, known as the Institutional analysis and development framework (IAD), has been considered sufficiently distinct to be thought of as a separate school of public choice theory. She authored many books in the fields of organizational theory, political science, and public administration.

In 2009 was awarded The Sveriges Riksbank Prize in Economic Sciences in Memory of Alfred Nobel "for her analysis of economic governance, especially the commons". Contribution: Challenged the conventional wisdom by demonstrating how local property can be successfully managed by local commons without any regulation by central authorities or privatization.
Major achievements
Elinor Ostrom was a member of the United States National Academy of Sciences and past president of the American Political Science Association and the Public Choice Society. She also was a Foreign Member of Académie d'Agriculture de France (Paris, France, 2011), an Honorary Professor, Beihang University (Beijing, China, 2011) among others
Works
Governing the Commons: The Evolution of Institutions for Collective Action (New York: Cambridge University Press, 1990)
Institutional Incentives and Sustainable Development: Infrastructure Policies in Perspective, with Larry Schroeder and Susan Wynne (Boulder, Colorado: Westview Press, 1993)
Personality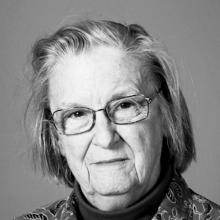 Born August 7, 1933
Died
June 12, 2012
(aged 78)
1951

1954

1962

1965

1955 - 1957

1957 - 1961

1965 - 1966

1966 - 1969

1969 - 1974

1973 - 2009

1974 - 1991

1980 - 1984

1989 - 1990

1996 - 2006