Thomas More (Saint Thomas More)
Education
More was educated at St Anthony's School, considered one of the finest schools in London at that time.

More received a classical education at Oxford and was a pupil of Thomas Linacre and William Grocyn, becoming proficient in both Greek and Latin. He left Oxford in 1494 – after only two years – at the insistence of his father, to begin his legal training in London at New Inn, one of the Inns of Chancery. In 1496, he became a student at Lincoln's Inn, one of the Inns of Court, where he remained until 1502, when he was called to the bar.
Career
Early political career

In 1504 he was elected to Parliament to represent Great Yarmouth and in 1510 to represent London.

From 1510, More served as one of the two undersheriffs of the City of London, a position of considerable responsibility in which he earned a reputation as an honest and effective public servant. More became Master of Requests in 1514, the same year in which he was appointed as a Privy Councillor, a member of His Majesty's Most Honourable Privy Council. After undertaking a diplomatic mission to the Holy Roman Emperor, Charles V, accompanying Thomas Wolsey to Calais and Bruges, More was knighted and made under-treasurer of the Exchequer in 1521.

As secretary and personal adviser to King Henry VIII, More became increasingly influential in the government, welcoming foreign diplomats, drafting official documents, and serving as a liaison between the King and his Lord Chancellor: Thomas Wolsey, the Cardinal Archbishop of York.

In 1523 he was elected as knight of the shire (MP) for Middlesex and, recommended by Wolsey, was elected the Speaker of the House of Commons.

He later served as High Steward for the universities of Oxford and Cambridge. In 1525 he became Chancellor of the Duchy of Lancaster, a position that entailed administrative and judicial control of much of northern England.

Chancellorship

After Wolsey fell, More succeeded to the office of Chancellor in 1529. He dispatched cases with unprecedented rapidity. Fully devoted to Henry and the royal prerogative, More initially co-operated with the King's new policy, denouncing Wolsey in Parliament and joining the opinion of the theologians at Oxford and Cambridge that the marriage of Henry to Catherine had been unlawful. But as Henry began to deny Papal Authority, More's qualms grew.

Campaign against the Reformation

More supported the Catholic Church and saw the Protestant Reformation as heresy, a threat to the unity of both church and society. Believing in the theology, polemics, and ecclesiastical laws of the church, More "heard Luther's call to destroy the Catholic Church as a call to war."

His early actions against the Reformation included aiding Wolsey in preventing Lutheran books from being imported into England, spying on and investigating suspected Protestants, especially publishers, and arresting any one holding in his possession, transporting, or selling the books of the Protestant reformation. More vigorously suppressed the travelling country ministers who usedTyndale's English translation of the New Testament. It contained translations of certain words—for example Tyndale used "elder" rather than "priest" for the Greek "presbuteros"—and some footnotes which challenged Catholic doctrine. It was during this time that most of his literary polemics appeared.

Rumours circulated during and after More's lifetime regarding ill-treatment of heretics during his time as Lord Chancellor. The popular anti-Catholic polemicist John Foxe, who "placed Protestant sufferings against the background of... the Antichrist" was instrumental in publicising accusations of torture in his famous Book of Martyrs, claiming that More had often personally used violence or torture while interrogating heretics. Later authors, such as Brian Moynahan and Michael Farris, cite Foxe when repeating these allegations. More himself denied these allegations:

Stories of a similar nature were current even in More's lifetime and he denied them forcefully. He admitted that he did imprison heretics in his house – 'theyr sure kepynge' – he called it – but he utterly rejected claims of torture and whipping... 'so helpe me God.

In total there were six burned at the stake for heresy during More's chancellorship: Thomas Hitton, Thomas Bilney, Richard Bayfield, John Tewkesbery, Thomas Dusgate, and James Bainham. More's influential role in the burning of Tyndale is reported by Moynahan. Burning at the stake had long been a standard punishment for heresy—about thirty burnings had taken place in the century before More's elevation to Chancellor, and burning continued to be used by both Catholics and Protestants during the religious upheaval of the following decades. Ackroyd notes that More explicitly "approved of Burning"After the case of John Tewkesbury, a London leather-seller found guilty by More of harbouring banned books and sentenced to burning for refusing to recant, More declared: he "burned as there was neuer wretche I wene better worthy."

Historians have been long divided over More's religious actions as Chancellor. While biographers such as Ackroyd have taken a relatively tolerant view of More's campaign against Protestantism by placing his actions within the turbulent religious climate of the time, other equally eminent historians, such as Richard Marius, have been more critical, believing that persecutions—including what he perceives as the advocacy of extermination for Protestants—were a betrayal of More's earlier humanist convictions. As Marius writes in his biography of More: "To stand before a man at an inquisition, knowing that he will rejoice when we die, knowing that he will commit us to the stake and its horrors without a moment's hesitation or remorse if we do not satisfy him, is not an experience much less cruel because our inquisitor does not whip us or rack us or shout at us. . . More believed that they (Protestants) should be exterminated, and while he was in office he did everything in his power to bring that extermination to pass."

Resignation

As the conflict over supremacy between the Papacy and the King reached its apogée, More continued to remain steadfast in supporting the supremacy of the Successor of Peter over that of the King of England. In 1530, More refused to sign a letter by the leading English churchmen and aristocrats asking Pope Clement VII to annul Henry's marriage to Catherine, and also quarrelled with Henry VIII over the heresy laws. In 1531, Henry had isolated More by purging most clergy who supported the papal stance from senior positions in the church. In addition, Henry had solidified his denial of the Papacy's control of England by passing the Statute of Praemunire which forbade appeals to the Roman Curia from England. Realizing his isolated position, More attempted to resign after being forced to take an oath declaring the King the Supreme Head of the English Church "as far as the law of Christ allows". Furthermore, the Statute of Praemunire made it a crime to support in public or office the claims of the Papacy. Thus, he refused to take the oath in the form in which it would renounce all claims of jurisdiction over the Church except the sovereign's. Nonetheless, the reputation and influence of More as well as his long relationship with Henry, kept his life secure for the time being and consequently, he was not relieved of office. However, with his supporters in court quickly disappearing, in 1532 he asked the King again to relieve him of his office, claiming that he was ill and suffering from sharp chest pains. This time Henry granted his request.
Major achievements
More was beatified by Pope Leo XIII in 1886 and canonised, with John Fisher, on 19 May 1935 by Pope Pius XI, and his feast day was established as 9 July. This day is still observed as his feast day by traditionalist Catholics [Latin Mass]. Following a series of post-Vatican The second reforms, his feast day was changed and his name was added to the Catholic calendar of saints in 1970 for celebration on 22 June jointly with St John Fisher, the only remaining bishop (owing to the coincident natural deaths of eight aged bishops) who, during the English Reformation, maintained, at the King's mercy, allegiance to the Pope. In 2000, Pope John Paul The second declared More the "heavenly patron of statesmen and politicians". In 1980, More was added to the Church of England's calendar of Saints and Heroes of the Christian Church, jointly with John Fisher. More is commemorated on 6 July.

The steadfastness and courage with which More held on to his religious convictions in the face of ruin and death and the dignity with which he conducted himself during his imprisonment, trial, and execution, contributed much to More's posthumous reputation, particularly among Catholics, although his zealous persecution of Protestants while Lord Chancellor makes him a poor example for modern notions of religious liberty. Many historians argue that his conviction for treason was unjust, and even among some Protestants his execution was viewed as heavy-handed. His friend Erasmus defended More's character as "more pure than any snow" and described his genius as "such as England never had and never again will have." When he knew of the execution, Emperor Charles V said: "Had we been master of such a servant, we would rather have lost the best city of our dominions than such a worthy councillor."

More was greatly admired by the Anglican writer Jonathan Swift. Swift wrote that More was "a person of the greatest virtue this kingdom ever produced". Samuel Johnson is often cited as the origin of that quote, but mistakenly: it is not to be found in his writings or recorded by Boswell.

The English Roman Catholic writer G. K. Chesterton said of More that "He may come to be counted the greatest Englishman, or at least the greatest historical character in English history."


Connections
1st wife: Jane Colt

2d wife: Alice Middleton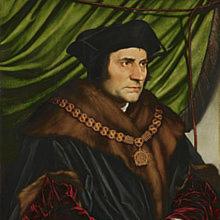 1492

1504

1510

1514

1514

1521

1523

1525

1529
Contributor  
Album

Photo: Thomas More and his family
Photo: Statue of Thomas More, Cheyne Walk, Chelsea, London. Chelsea Old Church in background. 21 January 2006. Photographer: Fin Fahey.
Photo: Portrait de Saint Thomas More, mort à Tower Hill (Londres) in 1535

School
College/University
Go
up
Edit Profile