Heinrich Schliemann (Johann Ludwig Heinrich Julius Schliemann)
Heinrich Schliemann was a German merchant, world traveler and archeologist.
Background
Schliemann, Heinrich was born on January 6, 1822 in New Buckow, Mecklenburg-Schwerin, Germany.
Education
His family's poverty made a university education impossible, so it was Schliemann's early academic experiences that influenced the course of his education as an adult. In his archaeological career, however, there was often a division between Schliemann and the educated professionals.
Career
Accumulated a fortune in the indigo trade and as a military contractor and retired from business in 1863 Schliemann dedicated himself to finding Troy and other Homeric sites. After several years of study and travel, in 1871 he undertook at his own expense excavations at Hissarlik that resulted in the discovery of four superimposed towns. Schliemann's research at Hissarlik represented the archaeological discovery of a Homeric civilization, previously considered by many experts to be legendary. Schliemann related every object he found to the verses of Homer, which he knew by heart. He made other notable excavations at Mycenae (1876-78), Ithaca (1878), Orchomenus, Boeotia (1881-82), and Tiryns (1884-85). His work in Greece demonstrated the existence of the previously unknown civilization of the Greek Bronze Age. Schliemann made two of the most spectacular discoveries in the history of archaeology, finding the "Treasure of Priam" at Hissarlik in 1873 (a trove that included two gold diadems, thousands of pieces of gold jewelry, bronze weapons, and silver and copper vessels) and an even larger treasure of gold, silver, and copper ornaments, masks, and swords at the Shaft Graves at Mycenae in 1876-77. Schliemann's work, widely reported by the international press, captured the public imagination and dramatically revealed the great potential of archaeological research. Schliemann wrote several books describing his discoveries and an autobiography (published posthumously in 1892) and left a vast collection of personal papers and records,
Works
Der Peloponnes und Troja (1869)
Trojanische Altertuemer (1874)
Troja und seine Ruinen (1875)
Personality
Interests
Schliemann had a great love for history.
Connections
mother: Luise Therese Sophie

-

Germany

In 1831 she died. For Heinrich this traumatic event resulted in his fetish for women named Sophie.

1-st wife: Ekaterina Lyschin

-

Russia

Son: Sergey Schliemann

Ekaterina and Heinrich's child

Daughter: Name Unknown

Ekaterina and Heinrich's child

Daughter: Name Unknown

Ekaterina and Heinrich's child

Son: Andromache Schliemann

He and his brother Agamemnon were Heinrich's sons of the second marriage.

Son: Agamemnon Schliemann

He and his brother Andromache were were Heinrich's sons of the second marriage.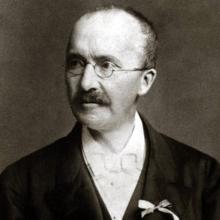 1833 - 1834

grammar school, Neustrelitz

1834 - 1836

vocational school
Contributor  
First Name
Other Names
Spelling variants for First Name
Spelling variants for Last/Family/Name
Middle Name
Full name, name spelling variants, pseudonym

Johann Ludwig Heinrich Julius Schliemann

Family description
Works

work: Ithaka

Link
Works description
mainPhoto

work: Der Peloponnes und Troja (1869)

Link
Works description
mainPhoto

work: Trojanische Altertuemer (1874)

Link
Works description
mainPhoto

work: Troja und seine Ruinen (1875)

Link
Works description
mainPhoto

work: Mykenae (1878)

Link
Works description
mainPhoto

work: Ilios (1881)

Link
Works description
mainPhoto

work: Orchomenos (1881)

Link
Works description
mainPhoto

work: Troja (1884)

Link
Works description
mainPhoto

work: Tiryns (1886)

Link
Works description
mainPhoto

book: Autobiography (Selbstbiographie, completed by A. Brückner, ed. by S. Schliemann, 1892)

Link
Works description
mainPhoto

General Info
Background
Relatives

Ernst Schliemann
Luise Therese Sophie
Ekaterina Lyschin
Sergey Schliemann
Name Unknown
Name Unknown
Andromache Schliemann
Agamemnon Schliemann

Career Description
School

grammar school, Neustrelitz
vocational school

Address
Background
Membership description
Works

work: Ithaka
work: Der Peloponnes und Troja (1869)
work: Trojanische Altertuemer (1874)
work: Troja und seine Ruinen (1875)
work: Mykenae (1878)
work: Ilios (1881)
work: Orchomenos (1881)
work: Troja (1884)
work: Tiryns (1886)
book: Autobiography (Selbstbiographie, completed by A. Brückner, educated by S. Schliemann, 1892)

School description
Personality
Quotes from others about the person
Physical Characteristics
Go
up
Edit Profile