Martín Torrijos ( Martín Erasto Torrijos Espino)
Background
Career
Between 1988 and 1992 he worked as a business manager in the headquarters of McDonald's Corporation in Chicago. Martín Torrijos began selling industrial lamps in 1992. He is the owner of a construction company, rents equipment and a part of land in Rio Hato out. He is also a consultant to the company Panama Maritime and has equity interest in Tony Fergo and Cirilo's Inc., the company of Cirilo McSween, his tutor millionaire in America.

He came to Panamanian politics in 1992. He began to participate in the reorganization of the Democratic Revolutionary Party, PRD. In 1994 when he was a young member of the PRD, President Ernesto Perez Balladares appoint to the position of deputy execuive.

Martin Torrijos won the elections on May 2, 2004 with 47.4 percent of the votes in alliance with the Popular Party (PP).

On September 1, 2004 he became president of Panama to rule for a period of five years.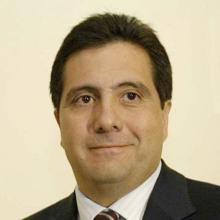 Born
July 18, 1963
(age 54)
Nationality
Ethnicity:
1988 - 1992

1994 - 1999

September 1, 2004 - July 1, 2009