Background
Ethnicity: Son of Dermot Neill, a Harrow- and Sandhurst-educated army officer and third-generation New Zealander
Education
His family emigrated across the ocean when he was a small boy (with mumps). He attended the University of Christchurch and was thinking of being a filmmaker before being encouraged to act. For he had a handsome, English look—worthy of that original "Nigel"—and one should recall his dashing BBC-TV series. Reilly: Ace of Series, as well as the fact that he was considered for James Bond before Pierce Brosnan got the part. But Neill, apparently, knew he was too interesting to be a 007.
Career
His earliest big picture was Sleeping Dogs (77, Roger Donaldson), followed by his first work with (udv Davis in My Brilliant Career (79, Gillian Armstrong). After Attack Force Z (81, Tim Burstall), he appeared with Isabelle Adjani in Possession (81, Andrzej Zulawsla); in the third "Omen" film. The Final Conflict (81; Graham Baker); a Russian in Enigma (82. Jeannot Szware); a Norman in Ivanhoe (82, Douglas Gamfield); on French TV in The Blood of Others (84, Claude Chabrol); as the Australian outlaw, Captain Starlight, in Robbenj Under Arms (85, Ken Hannam); as the resistance fighter who makes love to Meryl Streep in Plenty (85, Fred Schepisi).

By now, he could be found working in Australasia, Europe, or America: For Love Alone (S6, Stephen Wallace), from the Christina Stead novel; The Good Wife (86, Ken Cameron); as Streep's husband in A Cry in the Dark (88, Schepisi); Dead Calm (89, Phillip Noyce); a Russian officer in The Hunt for Red October (90, John McTieman); with Judy Davis again in One Against the Wind (91. Larry Elikann); Until the End of the World (91. Wim Wenders); Hostage (92, Robert Young); Memoirs of an Invisible Man (92, John Carpenter); Family Pictures (93, Philip Saville), with Anjelica Huston.

He was the voice of informed reason in Jurassic Park (93, Steven Spielberg); happily back in New Zealand for The Piano (93, Jane Campion); Rainbow Warrior (94, Michael Tuchner); as the artist Norman Lindsay—the figure James Mason plaved in Age of Consent—in Sirens (94, John Duigan); Rudtjard Kipling's The Jungle Book (94, Stephen Sommers); outstanding in In the Mouth of Madness (95, Carpenter); doing Chekhov in Country Life (95, Michael Blakemore); as Charles II in Restoration (95, Michael Hoffman); with Judy Davis once more in Children of the Revolution (96, Peter Duncan); Event Horizon (97, Paul Anderson); on TV as Merlin (98, Steve Barron); the husband at home in The Horse Whisperer (93, Robert Bedford); The Revengers' Comedies/Sweet Revenge (98, Malcolm Mowbray); Molokai. The Story of Father Damien (99, Paul Cox); Bicentennial Man (99, Chris Columbus).

On TV, he was Jefferson in Sally Ilcmings: An American Scandal (00, Charles Haid); The Dish (00, Rob Sitch); on TV in Submerged (01, James Keach); Jurassic Park III (01, Joe Johnston); The Zookeeper (01, Ralph Ziman); Framed (01, Daniel Petrie Jr.).
Views
Quotations: "The one thing I find sad when I come to Los Angeles, is that the world here is populated by millions of people who want to be actors and never will be. And it's a particularly American thing, I think, to advise people to follow their dreams. You ought to be very careful about advising such things, because people have all kinds of entirely unrealistic dreams. As a result, so many people here think of themselves as losers, which is the worst thing you can be called in America."

But "loser" is certainly not the category Neill fell into with a film career that has netted him three Golden Globe nominations. Since his wonderful performance in My Brilliant Career (1979) he's worked non-stop. "I'm a useful actor," he says. "I don't come to the audience with any particular baggage. When I turn up on the screen, you don't necessarily know whether I'm going to solve everything as the good guy or whether I will turn out to be something else entirely."
Personality
There's a Sam Neill who seems always there in large films, watching Meryl Streep or the dinosaur with the basic common sense that knows all stars are alike. That actor has been a patient, loyal servant to great ladies, even having his bodily fluids (well, one of them) conjured up by Sigourney Weaver in Snow White (97, Michael Colm). Then look again, and see what a wry, watchful actor he is. If you doubt bis considerable intelligence, then track down Cinema of Unease, the documentary he wrote and directed (with Judy Ryner) on the history of movies (and himself) in New Zealand.
Interests
Neill's hobby is running a winery called Two Paddocks in Central Otago on New Zealand's South Island.
Connections
Neill married Noriko Watanabe, a makeup artist, in September 1989. They have a daughter, Elena. He also has a son, Tim, from a previous relationship with a New Zealand actress. He and his family divide their time between homes in Los Angeles, Australia and New Zealand.

friend: Neil Finn

friend: Tim Finn

friend: Jimmy Barnes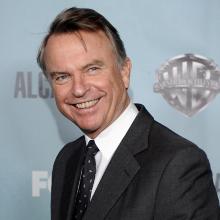 Born
September 14, 1947
(age 70)
Nationality
1975

1975 - 1975

1977

1981

1988

1989

1989

1990

1993

1993

1994

1995

1997

1998

1999

2000

March, 2012 - June, 2012