Ryunosuke Akutagawa (Chokodo Shujin,Gaki)
Background
Akutagawa Ryonosuke was born and raised in Tokyo's shitamachi ("low city"), famous for its cultural traditions. Shortly after Akutagawa's birth his mother, Fuku, became insane. His father, Niihara Toshizo, a dairyman, was not able to take care of his son, and Akutagawa was adopted by his uncle, Akutagawa Dosho, whose surname he assumed. As a boy Akutagawa was sickly and hypersensitive, but he excelled at school and was a voracious reader.

Towards the end of his life, Akutagawa began suffering from visual hallucinations and nervousness over fear that he had inherited his mother's mental disorder. In 1927 he tried to take his own life, together with a friend of his wife, but the attempt failed. He finally committed suicide by taking an overdose of Veronal. He was 35 years old.
Education
He began his literary career while attending Tokyo Imperial University (now the University of Tokyo), where he studied English literature.

While still at the university, Akutagawa started to write short fiction. His first literary work was translation of Anatole France's Balthasar. With his friends, Kikuchi Kan and Kumе Masao, he founded the literary magazine Shin Shicho. While still a student he proposed marriage to a childhood friend, but his adoptive family did not approve the union. In 1916 he became engaged to Fumi Tsukamoto, whom he married in 1918.
Career
In 1914, Akutagawa and his former high school friends revived the literary journal Shinshicho ("New Currents of Thought"), publishing translations of William Butler Yeats and Anatole France along with their own works.

Akutagawa published his first short story Rashomon the following year in the literary magazine Teikoku Bungaku ("Imperial Literature"), while still a student. The story, based on a twelfth-century tale, was noticed by author Natsume Soseki. Encouraged by the praise, Akutagawa thereafter considered himself Soseki's disciple, and began visiting the author for his literary circle meetings every Thursday. It was also at this time that he started writing haiku under pen-name Gaki.

The final phase of Akutagawa's literary career was marked by his deteriorating physical and mental health. Much of his work during this period is distinctly autobiographical, some even taken directly from his diaries.
Personality
Connections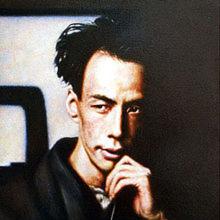 Born March 1, 1892
Died
July 24, 1927
(aged 35)
Nationality
Ethnicity: