Sergei Hurko (Sergei Petrovich Hurko)
Hurko has published more than 120 scientific and educational works, including four monographs. He is one of the authors of the textbook on economics, textbooks on micro-, macro- and global economy. He helped to create the textbook "Forecasting and planning of the economy".
During the period of 1996-2006 Hurko was a member of the Council of the Special Presidential Fund for Social Support of Gifted Students.
Education
Major achievements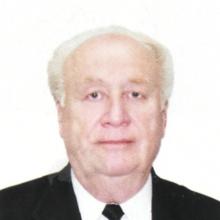 Born August 1, 1940
Nationality
1977 - 1982

1983 - 1988

1991 - 2002
Contributor  
Major Achievements

Professor of Economics (since 1999)
Professor of Economics (since 1999). Hurko has the title "Honored Worker of Education of the Republic of Belarus."

Awards

commemorative medal "For Valiant Labor"
"Badge of Honor" medal
"Excellence in Education of the Republic of Belarus"

Works

book: Forecasting and Planning of the Economy

General Info
Go
up
Edit Profile