Leslie Moonves
Leslie Moonves is President and Chief Executive Officer of CBS Corporation.
Moonves served as co-president and co-chief operating officer of Viacom, Inc., the predecessor to CBS Corporation, from 2004 until the company split on December 31, 2005. Prior to that he had been in a series of executive positions for CBS since July 1995. He is also one of the Board of Directors at ZeniMax Media.
Career
Moonves had previous upper management experience early in his business career. He was in charge of first-run syndication and pay/cable programming at 20th Century Fox Television. Another position he held at 20th Century Fox Television was Vice President of movies and mini-series.

Moonves joined Lorimar Television in 1985 as executive in charge of its movies and mini-series, and in 1988, became head of creative affairs. From 1989 to 1993, he was President at Lorimar. Then in July 1993, he became President/CEO of Warner Bros. Television, when Warner Bros. and Lorimar Television combined operations. While Moonves was president/CEO of Warner Bros. Television, he green-lit the hit shows Friends and ER, among many others.

He joined CBS in July 1995 as president of CBS Entertainment.[6] From April 1998 until 2003, he was President and Chief Executive Officer at CBS Television, then was promoted to Chairman and CEO of CBS in 2003. He oversees all operations of the company, including the CBS Television Network, The CW (a joint venture between CBS Corporation and Warner Bros. Entertainment), CBS Television Stations, CBS Television Studios, CBS Television Distribution, Showtime, CBS Radio, CBS Records, CBS Outdoor, Simon & Schuster, CBS Interactive, CBS Consumer Products, CBS Home Entertainment, CBS Outernet and CBS Films. During this time (2003), CBS became America's most watched television network, going from last to first.
Major achievements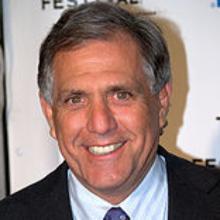 Born
October 6, 1949
(age 68)
Nationality
1971

1988

1989 - 1993

July, 1993

July, 1995

1998 - 2003

2004 - 2005

2005