Pankaj Mullick
Pankaj Mullick, also known as Pankaj Kumar Mullick (Bengali: পঙ্কজ কুমার মল্লিক Pôngkoj Kumar Mollik; 10 May 1905 - 19 February 1978) was a Bengali Indian music director, who was a pioneer of film music in Bengali cinema and Hindi cinema at the advent of playback singing, as well as an early exponent of Rabindra Sangeet.
Background
He was born in Kolkata in 1905, to Monimohan Mullick and Monomohini. His father had a deep interest in traditional Bengali music. He started his early training in Indian classical music under the tutelage of Durgadas Bandopadhaya. He studied at the Scottish Church College of the University of Calcutta. An important turning point in his life came when, after finishing his studies, he came in contact with Dinendranath Tagore, who was Rabindranath Tagore's great-nephew. This led to Pankaj Mullick's lasting interest in Rabindra Sangeet. Rabindranath Tagore, in turn, grew fond of him, and soon Mullick became known as one of the leading exponents of Tagore's songs.
Career
Tagore's song, Nemecche Aaj Prothom Badal became his first commercial recording, with the Kolkata-based Videophone Company in 1926, at the age of eighteen. This was the first of many albums which made him a household name in Rabindra sangeet.

He started his career with the Indian Broadcasting Corporation in Calcutta in 1927, the forerunner of All India Radio (AIR), along with composer R. C. Boral, where he contributed as a music director and artist for nearly fifty years.

He contributed in various capacities to Bengali, Hindi, Urdu and Tamil language films for 38 years, starting in 1931. He worked as music director to artists like K.L. Saigal, S.D. Burman, Hemanta Mukherjee, Geeta Dutt and Asha Bhosle. He acted with famous film actors like K L Saigal, P.C. Barua and Kanan Devi. Along with Nitin Bose and R.C. Boral, Mullick introduced playback singing in Indian cinema.

He worked with one of the early film studios, New Theatres Calcutta for 25 years.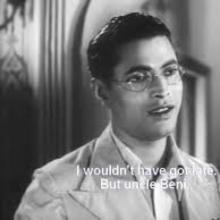 Contributor  
Works

Film: Raikamal
Film: Chitrangada
Film: Yatrik
Film: Mahaprasthaner Pathey
Film: Zalzala
Film: Rupkatha
Film: Manzoor
Film: Pratibad
Film: Ramer Sumati
Film: Dui Purush
Film: Meri Bahen
Film: Kashinath
Film: Dikshul
Film: Meenakshi
Film: Doctor
Film: Nartaki
Film: Zindagi
Film: Badi Didi
Film: Kapal Kundala
Film: Abhagin
Film: Abhigyan
Film: Desher Mati
Film: Dharti Mata
Film: Dushman
Film: Jiban Maran
Film: Badi Bahen
Film: Didi
Film: Mukti
Film: Devdas
Film: Grihadah
Film: Maya
Film: Manzil
Film: Yahudi Ki Ladki
Film: Chasher Meye
Go
up
Edit Profile