Background
His father, Alexander Grieg, was British consul at Bergen. The Grieg (formerly Greig) family was of Scottish origin, the composer's grandfather having emigrated after the Battle of Culloden. His mother,Gesine Hagerup, who belonged to a well-established Norwegian family, studied music at Hamburg. From the age of six Grieg received piano lessons from her.
Education
Edvard Grieg was raised in a musical area. His mother was his first piano teacher and taught him to play at the age of six. Grieg studied in several schools, including Tanks Upper School, and Tanks School.

In 1858, at the recommendation of theviolin virtuoso Ole Bull, Grieg entered the Leipzig Conservatory, concentrating on the piano, and enjoyed the many concerts and recitals given in Leipzig. There he was influenced by the tradition of Mendelssohn and Schumann. He disliked the discipline of the conservatory course of study. An exception was the organ, which was mandatory for piano students. In the spring of 1860, he survived a life-threatening lung disease - pleurisy from which he never really recovered.
Career
In 1861 Grieg made his debut as a concert pianist, in Karlshamn, Sweden. In 1862, he finished his studies in Leipzig and held his first concert in his home town, where his programme included Beethoven's Pathétique sonata.

In 1863, Grieg went to Copenhagen, Denmark, and stayed there for three years. He met the Danish composers J. P. E. Hartmann and Niels Gade. He also met his fellow Norwegian composer Rikard Nordraak (composer of the Norwegian national anthem), who became a good friend and source of inspiration. "Through him," said Grieg, "I first learned to know the northern folk tunes and my own nature." Nordraak died in 1866, and Grieg composed a funeral march in his honor.

In the winter of 1864–65 Grieg became one of the founders of the Copenhagen concert society, Euterpe, for the production of works by young Scandinavian composers. In 1867 he married his cousin, Nina Hagerup, who became an authoritative interpreter of his songs. He spent the winters of 1865–66 and 1869–70 in Rome, where he first met Ibsen and also Liszt, who was roused to enthusiasm by his piano concerto. In 1866 he settled in Christiania (now Oslo), remaining there until 1874, when he was granted an annual stipend of 1,600 crowns by the Norwegian government.

In the summer of 1868, Grieg wrote his Piano Concerto in A minor while on holiday in Denmark. Edmund Neupert gave the concerto its premiere performance on 3 April 1869 in the Casino Theater in Copenhagen. Grieg himself was unable to be there due to conducting commitments in Christiania (as Oslo was then named).

In 1868, Franz Liszt, who had not yet met Grieg, wrote a testimonial for him to the Norwegian Ministry of Education, which led to Grieg's obtaining a travel grant. The two men met in Rome in 1870. On Grieg's first visit, they went over Grieg's Violin Sonata No. 1, which pleased Liszt greatly. On his second visit, in April, Grieg brought with him the manuscript of his Piano Concerto, which Liszt proceeded to sightread (including the orchestral arrangement). Liszt's rendition greatly impressed his audience, although Grieg gently pointed out to him that he played the first movement too quickly. Liszt also gave Grieg some advice on orchestration, (for example, to give the melody of the second theme in the first movement to a solo trumpet).

In 1874–76, Grieg composed incidental music for the premiere of Henrik Ibsen's play Peer Gynt, at the request of the author.

Grieg had close ties with the Bergen Philharmonic Orchestra (Harmonien), and later became Music Director of the orchestra from 1880–1882.

In 1885 he built his home, "Troldhaugen," near Bergen. In spite of poor health, Grieg made several tours in Scandinavia, on the Continent, and in England, playing his piano concerto in London in 1888.

In 1888, Grieg met Tchaikovsky in Leipzig. Grieg was struck by the sadness in Tchaikovsky. Tchaikovsky thought very highly of Grieg's music, praising its beauty, originality and warmth.

Edvard Grieg died in the late summer of 1907, aged 64, after a long period of illness. His final words were "Well, if it must be so." The funeral drew between 30,000 and 40,000 people out on the streets of his home town to honor him. Following his wish, his own Funeral March in Memory of Rikard Nordraak was played in an orchestration by his friend Johan Halvorsen, who had married Grieg's niece. In addition, the Funeral March movement from Chopin's Piano Sonata No. 2 was played. Grieg was cremated, and his ashes were entombed in a mountain crypt near his house, Troldhaugen. The ashes of his wife were later placed with his after her death.
Major achievements
As a composer Grieg's distinguishing quality is lyrical. Whether his orchestral works or his songs or his best pianoforte works are submitted to examination, it is almost always the note of song that tells. Sometimes, as in the music to Henrik Ibsen's Peer Gynt, or in the suite for stringed orchestra, Aus Holbergs Zeit, this characteristic is combined with a strong power for raising pictures in the listener's mind, and the romantic "programme" tendency in Grieg's music became clearer the further writers like Richard Strauss carried this movement. Grieg's songs may be said to be generally the more spontaneous the more closely they conform to the simple model of the Volkslied; yet the much sung "Ich liebe dich" is a song of a different kind, which has hardly ever been surpassed for the perfection with which it depicts a strong momentary emotion, and it is difficult to ascribe greater merits to songs of Grieg even so characteristic as "Solvejg's Lied" and "Ein Schwan." The pianoforte concerto is brilliant and spontaneous; it has been performed by most pianists of the first rank, but its essential qualities and the pure nationality of its themes have been brought out to their perfection by one player only -- the Norwegian pianist Knudsen. The first and second of Grieg's violin sonatas are agreeable, so free and artless is the flow of their melody. In his numerous piano pieces and in those of his songs which are devoid of a definitely national inspiration the impression made is less permanent. Below called Grieg the "Chopin of the North." The phrase is an exaggeration rather than an expression of the truth, for the range of the appeal in Chopin is far wider, nor has the national movement inaugurated by Grieg shown promise of great development. He is rather to be regarded as the pioneer of a musical mission which has been perfectly carried out by himself alone.
Between 1867 and 1901 he wrote ten collections of Lyric Pieces (Lyriske Stykker) for piano. His spirited rhythms often have a folk song association. His harmonies, developed from the late Romantic style, were considered novel. In his few works in the larger forms—the Piano Concerto, Opus 16; the String Quartet in G Minor, Opus 27; and the three violin and piano sonatas—he uses a free sonata form. His original Ballad for piano, Opus 24, is a set of variations on a folk theme. Among his most popular works are his incidental music to Peer Gynt, Opus 23, and the suite Holberg, Opus 40. His arrangements of Norwegian dances and songs, Opus 17 and Opus 66, and especially his Slåtter, Norwegian Peasant Dances, Opus 72, show his characteristic sense of rhythm and harmony. His vocal works include the songs on texts of A.O. Vinje, Opus 33; and the Haugtussa cycle, Opus 67. Intuitively, he identified himself with the poet's imagery in these songs and discovered its musical equivalent.
Connections
Wife (1845-1935): Nina Grieg

Nina was born in Bergen, Norway. She was Grieg's first cousin. They married on June 11, 1867, in Copenhagen. The next year, their only child, Alexandra, was born. Alexandra died in 1869 from meningitis.

The couple often performed concerts together in Europe, usually to rave reviews. Edvard considered her the best performer of his songs.

After the death of Edvard in 1907, she moved to Denmark where she died twenty eight years later, she was cremated and her ashes were placed with her husbands' ashes in a mountain tomb near Troldhaugen.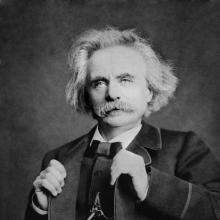 Born June 15, 1843
Died
September 4, 1907
(aged 64)
Nationality
Ethnicity: