Edwin Garrigues Boring
Edwin Garrigues Boring, American psychologist. Fellow of the American Association for the Advancement of Science, Society Experimental Psychologists, American Academy Arts and Sciences; member National Academy Sciences, American Psychological Association (secretary 1920-1922.
Background
Boring, Edwin Garrigues was born on October 23, 1886 in Philadelphia, Pennsylvania, United States. Son of Edwin McCurdy and Elizabeth Garrigues (Truman) Boring.
Education
Mechanical Engineering, Cornell, 1908, A.M., 1912, Doctor of Philosophy., 1914. Honorary Master of Arts, Harvard, 1942. Doctor of Science, University of Pennsylvania, 1946.

Doctor of Science, Clark University, 1956.
Career
He studied at Cornell University, where he received an undergraduate degree in electrical engineering in 1908 and obtained his Ph.D. in psychology in 1914. In 1922 he began teaching at Harvard. Under his direction psychology was separated from philosophy in 1934, and its experimental and physiological branches from the social and clinical in 1945. Boring also did important original studies on the sensations of the alimentary tract and the cutaneous sensations after nerve-division.
Works
Contemporary Psychology (1956-1961)
Connections
Married Lucy May Day, June 18, 1914. Children: Edwin Garrigues, Frank Henry, Mollie Day, Barbara (deceased 1950).

father: Edwin McCurdy Boring

mother: Elizabeth Garrigues (Truman) Boring

spouse: Lucy May Day

children: Edwin Garrigues Boring

Frank Henry Boring

Mollie Day Boring

Barbara Boring (deceased 1950)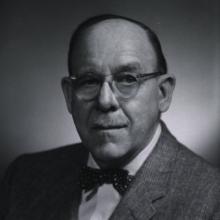 Born October 23, 1886
Died
July 1, 1968
(aged 81)
Nationality
Contributor  
Works

Contemporary Psychology (1956-1961)
Contemporary Psychology (1956-1961)
First Name
Middle Name
Place
Nationalities
College/University
Address
Family description
General Info
Background
Membership description
Works

Contemporary Psychology (1956-1961)
Autobiography: Psychologist at Large

Relatives
School and college years description
Personality
Quotes from others about the person
Physical Characteristics
Relatives
Relatives
Relatives

Barbara Boring (deceased 1950)

Relatives

Elizabeth Garrigues (Truman) Boring

Relatives
Relatives
Go
up
Edit Profile