John Denton Pinkstone French (1st Earl of Ypres)
Field Marshal John Denton Pinkstone French known as Sir John French from 1901 to 1916, and as The Viscount French between 1916 and 1922, was a senior British Army officer. Born in Kent to an Anglo-Irish family, he saw brief service as a midshipman in the Royal Navy, before becoming a cavalry officer.
Background
John French was born in Rip¬ple, Kent, on September 28, 1852, the son of a navy commander. French's family was related to the French/De Freyne family which had gone to Wexford in the fourteenth century and had substantial estates at Frenchpark, Roscommon. French always regarded himself as "Irish", although his branch of the family had lived in England since the eighteenth century.

His father was Commander John Tracey William French, RN, of Ripple Vale in Kent (born 1808, died 1854), who had fought at Navarino and under Napier in support of Dom Pedro in the Portuguese Civil War. His mother was Margaret Eccles from Glasgow, who, after suffering a breakdown after her husband's death, was eventually institutionalised after being diagnosed as insane. She died in 1867, leaving French to be brought up by his sisters.
Education
Career
French entered the Royal Navy in 1866, but four years later joined the Suffolk Artillery Militia; in 1874 he was gazetted to the Eighth Hussars. He was promoted captain in 1880 and major three years later, seeing service in Egypt, the Sudan, and India. After assignment to the War Office, French in September 1899 fought during the Boer War in the rank of major general. Thereafter, Lieutenant General French was commander in chief at Aldershot and promoted general in 1907. In March 1912, he was appointed chief of the Imperial General Staff, and the next year promoted field marshal. However, in 1914 French was forced to resign his post in the wake of the Curragh mutiny, in which the chief of the Imperial General Staff agreed that officers stationed at the Curragh in county Kildare would not have to participate in any armed coercion of Ulster into the acceptance of home rule for Ireland.

On August 4, 1914, at nearly sixty-two years of age, French was appointed commander in chief of the British Expeditionary Force to France. Ten days later he landed at Boulogne, and on August 23 the German First Army engaged French's forces near Mons. The British were almost totally enveloped within twenty-four hours and had no choice but to retreat. In the process, French's army was divided between Sir Douglas Haig's I Corps and Sir Horace Smith-Dorrien's II Corps because the commander in chief was too far removed from the front at St. Quentin. In fact, French then panicked and grew overly pessimistic; convinced that disaster was inevitable, he ordered a retreat from Mons and only a hasty visit by the secretary of state for war, Lord H. H. Kitchener, to France on September 1 brought the retreat to a halt.

French later blamed the disaster at Mons on Smith-Dorrien, who had made a stand a Le Cateau after having lost contact with headquarters and with Haig's I Corps. The overall situation was saved when General Joseph Joffre, the French commander in chief, advanced with the new Sixth Army from Amiens on September 5-6, crossed the River Marne three days later, and on September 15 had forced the Germans to withdraw to a strong line of defense on the River Aisne.

The British Expeditionary Force was next transferred to Flanders, and late in October French grew so optimistic as to report to Kitchener that the enemy was "playing their last card" in Flanders. On October 31 the British made a stand in the First Battle of Ypres, which ushered in trench warfare after fierce fighting. French felt that he could break the enemy lines if given sufficient forces and, in March 1915, tried at Neuve Chapelle, but to no avail. Late in April the Germans counterattacked, using chlorine gas for the first time, and French's belated efforts to storm the Aubers ridge came to nought. On September 25, 1915, the British attacked in force in Artois, only to be beaten back again at twice the casualty rate they had inflicted upon the enemy. It was a bad case of reverse attrition, and not even the British use of gas at the battle of Loos brought relief; the operation was broken off on October 14. French had not been mentally or physically up to the strains of high command and on December 4, 1915, resigned; fifteen days later Haig replaced him as commander in chief in France.

In January 1916, French was created viscount of Ypres and of the High Lake, county Roscommon, and appointed commander in chief of home forces. He was faced by a severe crisis at Easter 1916, when the Sinn Fein party rose in arms in Ireland and proclaimed a republic. French dispatched two territorial divisions to Dublin and eventually quelled the uprising. In May 1918, Viscount French was appointed lordlieutenant of Ireland and his tenure in that unhappy land was highlighted only by an unsuccessful attempt on his life in December 1919. He retired in April 1921. French was created earl of Ypres the following year, and he died at Deal Castle on May 22, 1925.
Connections
In 1875, French married Isabella Soundy, the daughter of a tradesman. Subalterns of that era were not expected to marry and French's first marriage may well have been kept secret from his regiment: his regiment is recorded incorrectly on the marriage certificate as "12th Hussars", a regiment that did not exist at the time. They divorced in 1878 with Isabella as a co-respondent and said to have been paid off by French's wealthy brother-in-law, John Lydall. The divorce could have ruined his career if widely known. Lydall had already paid off French's debts on a previous occasion, and later broke off relations with him when he attempted to borrow money again. Later still, when French's name was seen on newspaper headlines (most likely during the Curragh incident), he was observed to stomp off down the street muttering "sorry fellow, Jack French".

French married Eleanora Selby-Lowndes in 1880. Eleanore, one of seven sisters known as the "Belles of Bletchley", was somewhat older than he was. His first son John Richard Lowndes was born in Northumberland in 1881. A daughter was accidentally suffocated by her nurse in 1882. His second son Gerald was born in December 1883. Neither Eleanore, nor his daughter Essex (born late 1886, died 1979), were ever aware of his first marriage. French gave away his niece Georgina Whiteway (daughter of his sister Caroline) in 1903 when she married Fitzgerald Watt, French's stockbroker. Watt became, in uniform, his ADC as Inspector-General, then Private Secretary when CIGS, then trusted aide in the First World War.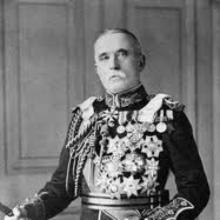 1883

August 4, 1914

December 4, 1915

May, 1918