Haig Douglas ("Master of the Field", "the Butcher of the Somme", 'Butcher' Haig)
Douglas Haig was a British senior officer during the First World War. He commanded the British Expeditionary Force from 1915 to the end of the war. He was commander during the Battle of the Somme, the battle with one of the highest casualties in British military history, the Third Battle of Ypres, and the Hundred Days Offensive, which led to the armistice in 1918.
Background
Douglas Haig was born in a house on Charlotte Square, Edinburgh. He was not an aristocrat by birth, or even landed gentry. His father John Haig was middle class, and as head of the family's successful Haig & Haig whisky distillery had an income of £10,000 per year - an enormous amount at the time. His mother Rachel was from a gentry family fallen on straitened circumstances

Both of Haig's parents died by the time he was eighteen
Education
Career
He took part in the Omdurman campaign (1897-1898) and in the Boer War (1899-1902). He served as inspector general of cavalry in India from 1903 until 1906, when he became director of military training at the War Office. There he played a large part in implementing Haldane's military reforms.

In 1909 he was appointed chief of staff of the Indian Army, and in 1911 he was promoted over the heads of many senior officers to command the military training center at Aldershot. On the outbreak of war in 1914 Haig commanded the First Army Corps, one of the two that composed the British Expeditionary Force under Sir John French. At the end of the year the corps was expanded into an army, which Haig commanded in the campaigns of 1915, Neuve Chapelle, and Loos. Increasing discontent with French's command - felt not least by Haig - came to a head in December 1915, and Haig was named to succeed him. He remained in command of the British Army in France till the end of the war.

From 1 July to 18 November 1916, Haig directed the British portion of a major Anglo-French offensive, the British offensive at the Somme. The French insisted that Haig continue the offensive on the Somme and their insistence continued throughout the duration of the battle, even after the French went on the offensive at Verdun in October 1916. Although too much shrapnel was used in the bombardment, Haig was not entirely to blame for this: as early as Jan 1915 Haig had been impressed by evidence of the effectiveness of High Explosive shells and had demanded as many of them as possible from van Donop.

After ceasing active service, Haig devoted the rest of his life to the welfare of ex-servicemen, making many speeches and answering all letters in his own hand. Haig pushed for the amalgamation of organisations, quashing a suggestion of a separate organisation for officers, into the British Legion which was founded in June 1921.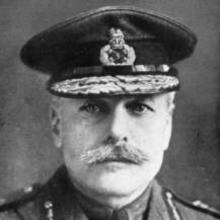 Official Titles