Background
Harriman was born in 1891 during the administration of President Benjamin Harrison and died in 1986 during Ronald Reagan's first term; he first visited Siberia under the reign of Czar Nicholas II at age 7, and at age 91 made his last visit to Moscow to meet the new Soviet leader, Yuri Andropov. As a 35 year-old investment banker and industrialist, Harriman conducted mining negotiations with Leon Trotsky, and subsequently dealt directly as a diplomat with every Soviet leader from Stalin to Andropov. He worked on New Deal projects for President Franklin Roosevelt, and in 1943 was appointed Ambassador to the Soviet Union by FDR.
Education
Career
Harriman's effective work as chief of the raw materials branch in the Office of Production Management in 1941 led to his appointment as defense expediter. In this capacity he made trips to London, the Near East, and Moscow to discuss lend-lease possibilities. He attended the Quebec, Casablanca, Moscow, Tehran, San Francisco, and Potsdam conferences.
Major achievements
He was U. S. ambassador to the The Union of Soviet Socialist Republics from 1943 to 1946 and ambassador to Great Britain in 1946. When Henry A. Wallace was forced to resign as secretary of commerce in September 1946, Harriman succeeded him. In 1947 he headed the group of civilians established by President Truman to make a report on American resources available for the European Recovery Program. In 1948, he resigned as secretary of commerce to become special United States representative abroad for the Economic Cooperation Administration.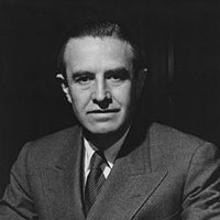 Born November 15, 1891
Died
July 26, 1986
(aged 94)
Nationality
Ethnicity:
1915 - 1917

1915 - 1946

1915 - 1954

1917 - 1925

1920 - 1931

1925 - 1928

1931 - 1942

1931 - 1946

1932 - 1946

1934 - 1935

1935 - 1937

1936 - 1936

1937 - 1939

1941 - 1941

1941 - 1943

1941 - 1943

1943 - 1946

1946 - 1946

1946 - 1948

1948 - 1950

1950 - 1952

1951 - 1952

1951 - 1953

1952 - 1952

1955 - 1958

1956 - 1956

1961 - 1961

1961 - 1962

1961 - 1963

1963 - 1963

1963 - 1965

1965 - 1969

1968 - 1968

1968 - 1969

1976 - 1976