Joanne Kathleen Rowling (J.K. Rowling / Robert Galbraith)
Jo
Background
Education
Rowling once noted that the only problem with her life was school. It was an old-fashioned school with roll-top desks and a teacher who frightened Rowling.

From Tutshill Primary, Rowling went to Wyedean Comprehensive School. A quiet and unathletic child, English was her favorite subject, and she created stories for her friends at lunchtime, tales involving heroic deeds.

After school Rowling was admitted to Exeter University and earned a degree in French.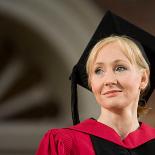 Career
As a postgraduate she moved to London and worked as a researcher at Amnesty International among other jobs.

She started writing the Harry Potter series during a delayed Manchester to London King's Cross train journey, and during the next five years, outlined the plots for each book and began writing the first novel.

She then moved to northern Portugal, where she taught English as a foreign language. She got married in October 1992 and gave birth to a daughter in 1993. When the marriage ended, she and Jessica returned to the UK to live in Edinburgh, where Harry Potter & the Sorcerer's Stone was eventually completed. The book was first published by Bloomsbury Children's Books in June 1997, under the name of J.K. Rowling.

The second title in the series, Harry Potter and the Chamber of Secrets, was published in July 1998 and was No. 1 in the adult hardback bestseller charts for a month after publication. Harry Potter and the Prisoner of Azkaban was published on 8th July 1999 to worldwide acclaim and spent four weeks at No.1 in the UK adult hardback bestseller.

7 July 2011, the final movie, Harry Potter and the Deathly Hallows: Part Two, premiered at The Odeon, Leicester Square in central London.
Politics
Rowling supports, vocally and financially, the British Labour party and its American counterpart, the Democrats.
Party affiliation: Social Democratic Party
Religion
J. K. Rowling was raised an Anglican Christian but now attends the Church of Scotland.
Denomination: Christian
Views
JKR admires "bravery in all forms." Also Jo values courage above all other virtues.
Quotations: "Some failure in life is inevitable. It is impossible to live without failing at something, unless you live so cautiously that you might as well not have lived at all—in which case, you fail by default."

"I think the single biggest thing that money gave me—and obviously I came from a place where I was a single mother and it really was hand to mouth at one point. It was literally as poor as you can get in Britain without being homeless at one point. If you've ever been there you will never, ever take for granted that you don't need to worry. Never."

"Whatever money you might have, self-worth really lies in finding out what you do best."

"It is perfectly possible to live a very moral life without a belief in God, and I think it's perfectly possible to live a life peppered with ill-doing and believe in God."

"I've no idea where ideas come from and I hope I never find out; it would spoil the excitement for me if it turned out I just have a funny little wrinkle on the surface of my brain which makes me think about invisible train platforms."
Personality
Rowling radiates reliability and consistency. People trust her and feel secure with her judgment. She is seen as a cornerstone of a business and is relied upon to do her work efficiently and expertly. Joanne has strength and respectability. She tends to dress in a utilitarian manner, concerned mostly with convention, practicality, durability, and price. J.K. Rowling presents herself as someone who values correctness, control, and precision. All of this stems from the fact that her most prized characteristic is her work. Joanne wants to be judged on the basis of her performance, rather than her appearance.

She is frugal and has learned to respect a dollar. J.K. Rowling is concerned about the security of her future and those she loves. However, this may appear to others as a bit too austere.

J.K. Rowling is a family person. She loves the intimacy, consistency, and the security a family provides. Joanne is a good provider and protector, but family members may take her efforts for granted. She is a true patriot, loves her country and is an integral part of her community.
Interests
Connections
Rowling met Jorge Arantes and the two married on October 16, 1992. Although the marriage proved a bad one, the couple had one child together, Jessica (born July 1993).
Contributor  
Spelling variants for First Name
Spelling variants for Last/Family/Name
Go
up
Edit Profile