George Samuel Horace Barton (Dr. G. S. H. Barton)
George Samuel Horace Barton, Canadian government official. Decorated Companion Order St. Michael and St. George. Republican for Canada, Council of Food and Agriculture Organisation, United Nations Vice president Canadian Society Technology Agriculturists, 1920-1923, president, 1923-1925; president Eastern Canada Society of Animal Production, 1928-1930.
Background
Ethnicity: Dr. George Samuel Horace Barton was the third child of John McCann Barton and Margaret Ann Allen.
Dr. George Samuel Horace Barton was born in Vankleek Hill in 1883.

He died in January 4, 1962, while taking part in a curling match at the Rideau club.
Education
He graduated from the Ontario Agricultural College in Guelph as a Bachelor of Science in Agriculture. He was a star left-winger for the senior hockey team at the Ontario college
Career
He worked in Macdonald College as a lecturer and an assistant, and then became the agriculture faculty's second dean. Barton's deanship was marked by changes in the degree program to include fewer production-oriented courses, an increase in more basic science subjects and the establishment of inter-departmental research committees. For his contributions, he was recognized with an honorary doctorate of science in agriculture from Laval University in 1928.

In 1932, when Canada was in midst of the Great Depression, he was called to Ottawa to serve the country as its deputy minister of agriculture. This post he held during 17 years. Since 1948 he was appointed as a special assistant to Minister of Agriculture. Was a founding member of the United Nations' Food and Agricultural Organization.
Major achievements
He was named a member of a three-party Combined Food Board with the United States and the United Kingdom, charged with allocating food, fibre and fertilizer supplies to the Allied nations during the Second World War.
Works
The World Food Supply (1949)
Personality
Interests
Sport & Clubs: golf, hockey, curling
Connections
Married Mabel Pauline Loveridge, 1912.

mother: Margaret Ann (Allen) Barton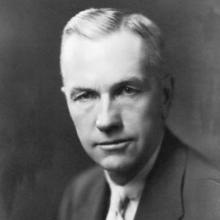 Born June 29, 1883
Died
January 4, 1962
(aged 78)
Nationality
Ethnicity:
1928

Laval University

1903 - 1907

Ontario Agricultural College

1907 - 1911

lecturer and assistant in animal husbandry, Macdonald College
Montreal, Quebec, Canada, Quebec, Canada

1911 - 1926

head of the Department of Animal Husbandry, Macdonald College
Montreal, Quebec, Canada, Quebec, Canada

1926 - 1932

agriculture faculty's second dean, Macdonald College
Montreal, Quebec, Canada, Quebec, Canada

1932 - 1948

deputy minister, Dominion Department of Agriculture
Ottawa, Canada

1948 - 1962

special assistant to Minister of Agriculture, Dominion Department of Agriculture
Ottawa, Canada