George Samuel Horace Barton (Dr. G. S. H. Barton)
Background
Ethnicity: Dr. George Samuel Horace Barton was the third child of John McCann Barton and Margaret Ann Allen.
Education
Career
He worked in Macdonald College as a lecturer and an assistant, and then became the agriculture faculty's second dean. Barton's deanship was marked by changes in the degree program to include fewer production-oriented courses, an increase in more basic science subjects and the establishment of inter-departmental research committees. For his contributions, he was recognized with an honorary doctorate of science in agriculture from Laval University in 1928.

In 1932, when Canada was in midst of the Great Depression, he was called to Ottawa to serve the country as its deputy minister of agriculture. This post he held during 17 years. Since 1948 he was appointed as a special assistant to Minister of Agriculture. Was a founding member of the United Nations' Food and Agricultural Organization.
Major achievements
Personality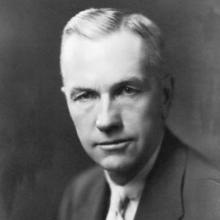 Born June 29, 1883
Died
January 4, 1962
(aged 78)
Nationality
Ethnicity:
1928

1903 - 1907

1907 - 1911

1911 - 1926

1926 - 1932

1932 - 1948

1948 - 1962